2019, what can I say about it… Not many high levels of pleasure I reached (not complaining btw!) but it looks like things might end a bit less dark than the year started. So lucky me the year is running to an end and I can't wait till 2020 starts to forget 2019 as soon as possible. No this is actually not true… There where also a lot of things I don't want to forget! ?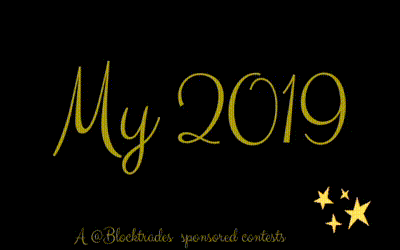 Goals set for 2019 during the 2018 contest
I've had some goals for myself which I mentioned in the 2018 post from this contest by @anomadsoul. The goals are listed below or read my old post if you want the extended version?
Running the coastline marathon again in October!

But first the 15km during Q1
Second the half marathon at the end of Q2

Finally compete at a swimming contest again
Finish my exam for 70-417 and some other exams so my certificates are leveled with the work I'm doing.
Keep my work in 8 hours a day
New travel plans, like going back to Iceland, a surftrip with my friends (@dboontje etc), probably Steemfest again and some short trips with the destination unknown plan.
My sister is getting married, so she can expect some pranks ?
Make Steem bigger better and stronger, with all the Steemians together! ?
Meet a lot of new Steemians, and old friends again.
While reading back, maybe I should learn to summarize things better ?
Long list of things I had planned for 2019, will explain them one by one if I was able to do something with it or not.
Running the coastline marathon again in October!
Well running I didn't manage it at all… Yes in January I did have some beautifull trainingruns and the Sunday before my car accident I had a perfect long run with my (running) partner in crime on the beach. So the shape was getting there, untill.. Now at the end of the year where I'm slowly feeling better I started to do some small runs again and till now they're going pretty ok. Only problem totally exhausted when I'm done with a few minutes of running but loving it! ❌
Finally compete at a swimming contest again
No swimming competitions for me his year, not aiming on these anymore. first getting back in proper trainingshape. Already raised up the meters of swimming in the pool from 800m max in one hour before the summer holidays till 2000m in one hour max recently! ❌
Finish my exams
Studying, started well with the first month of the year, but I left it there. No energy available and my head couldn't even remember simple things like items I needed from the Supermarket. Hopefully 2020 I will pickup my study for work again. Plans stay the same and maybe some added extras because the world around me didn't stop and continued evolving. ❌
Keep my work in 8 hours a day
This one I made pretty simple… One of the habbits of being sick is not working fulltime! At the moment working 24hrs a week max. Plan is to top this in the first Quarter of 2020 to max 30hrs and slowly return to 40 hrs a week.✔️
New travel plans
Travel plans are still there where they where for the whole year namely the fridge! Put them far far away somewhere in a dark corner behind the milk. No I did have some small traveladventures with @dboontje and @smalltall to Belgium and with my girlfriend to Germany. ❌
My sister her wedding
Well I did manage to realise one prank for my sister her wedding. Instead of a normall guestbook I arranged the toiletdoor where the guests could write/paint their message for the newly weds. Funny to see their faces when they found out that the door did look very familiar to them. And to this day they still like to read the messages on their door when they are having a moment for themselves at the toilet.? But the best I could arrange for them was their wedding video. Not a prank but my best gift to them. ✔️
Make Steem bigger better and stronger ?
Did my best to mention Steem anywhere I got and played Splinterlands as many times as possible during my visits in the hospital to show it around. But still not sure how to measure this accept knowing that I did my best. ✔️
Meet a lot of new Steemians, and old friends again
Did meet a few new Steemians this year. Janurary was still a good month for me, and thankfully @soyrosa organised a Steem meetup in Rotterdam. @dboontje and I joined that day and met a few lovely Steemians like @exyle, @s3rg3, @brittandjosie, @tonyz, @pundito and @hans001. For the full list see the old post I linked. ✔️
Summarize things more often
Even sick I couldn't learn myself to keep things short and to the point, long stories well it's just simply me I guess. Not a failure but not gonna change myself! ❤️
Not everything needs to follow a plan
Being sick offered me also new chances and things I would never think about otherwise. So I bought a new camera to still have a hobby during my daily vitamin D walks. During these walks I discovered how beautifully my own area still is. Don't need to travel that far for beautifull pictures. But also lucky for me, I've planned a photochallenge for myself at the beginning of the year. So the moments I had some energy left I could use that to play some time with the camera. Didn't manage to complete all of the subjects but it helped me out through the year. So a big win for me anyway ✔️.
Here is a list of the challenge's I've already worked out.
– Photography: Challenge of January – A sound you heard ?
– Photography: Challenge of February – Two things ?
– Photography: Challenge of March – Chaos ?
– Photography: Challenge of April – My favorite place ?
– Photography: Challenge of May – A place you've never been ?
– Photography: Challenge of June – High Angle ?
This interesting journey to keep me motivated for photography I can advise to everyone struggling through the year capturing images or give some healthy boost to their creativity. Still 6 topics left from 2019, and I will finish them through 2020 I'm sure. But the end of the year was to busy with hospital visits to work out the topics that are still open.
Health acievements and failures
Talking about the last hospital visits from the year. They did finally found some things that could be the cause of me passing out! ?
Long story but actually a psychiatrist that was a retrained neurologist found a clue about what could be happening to me. After that visit I went to the General Practioner and the ball started rolling. Few months and lots of appointments later they found out that there is some miscommunication between my brains and the hearth on a tilting table. So here is the simple explanation because I don't remember the medical terms anymore. Whenever my body goes from lying to sitting/standing position my brain seems to miscommunicate with my hearth to keep the bloodpressure steady. Normally your hearth should start working harder to keep the blood flowing mine doesn't do anything. So my blood is going down following the gravity force with the result my brain gives the signal of no blood. Natural reaction shutdown the body, you will enter horizontal and the bloods start flowing again where it should be.
The treatment will be with some sort of training on a tilting table. Don't have any information yet, the cardiologist needs to do his researh on this one for me. Where is the training, how many times, what training schedule etc. But the main goal is to keep me longer and longer bit by bit in a angled upright position attached to the table.
Houston we've found the problem
Almost a year later there is a small glitch in my internal system found but there is not a real solution for it by a medicine (yes there are a few medicines they could try but the side effects are worse than the problem they solve) or some surgery only by training. Just like my herniated disc in my back I prefer the way of training. Didn't do any bad things to my back and when I visited the neurologist in September for my current health problem I couldn't resist and asked if they could run some backtests again to see how my back improved. Well I surprised myself and the doctor with the reflex test. My left leg didn't react anymore at the hammer when they found out about the herniated disc. During this test it was the leg with the best reaction!✔️ ?
Today I had my last result in the hospital regarding my thyroid. A week ago they created a Echo again of the nodule in it. It didn't go 100% correct (something with a student I guess…?) but the doctor couldn't work with the report from the echo. The size of the nodule was mentioned textwise that it didn't grow during the past 6 months. But the size was noted different then 6 months ago. But the images were clear there where no reasons to be concerned at the moment. I'll need to return for a new echo in 9 months. Think they will be checking it every now and then from now on? But the internist had an interesting idea after my earlier testresults from the tiltingtable. Because a low blood pressure can be caused by the adrenal glands. The hypophysis in my head is regulating some hormone thing (forget the name, oh shoot failure❌) and it could be that this thing is way to low. And they only checked earlier this year if it was to high. So from the beginning of January new tests and hopefully better answers. But I'm feeling we're getting somewhere right now! Yeaaah!!!!!✔️?
I've written a few blog posts about my health with some information to keep you guys updated during the year. If you want to read them again I've added some quick links to them. Think you can see them as my health failure part of this post??
New things
Last year I've discovered a new hobby, I decided to create a short movie from the wedding of my sister after I bought the new Nikon Z6 healthwise. So during the year I started to practice more and more with video editing and i switched from using Imovie on my Iphone to using Premiere Pro and/or Final Cut Pro on my MacBook. Filming I always thought it could be comparable to photographing things. Well after this year I can tell you it is a lot more work to create things while filming. With a photo setup you have to create the scene for 1 second and that's it. So with strobes you can control the light, with your lens you control the angle the audience sees the scene and that's about it. While creating a short movie, you also have to think about sounds like music, SFX, the scene a viewer is seeiing is way bigger (camera moving through space) or longer (camera is rolling for seconds/minutes for a scene). So a lot of new things that I'm still learning and I do really like to learn them in 2020.
I've included some links to my latest video posts. Most happy with the wedding video, that is really my achievement for the year! ✔️
Thank You
I would like to end my post with one special thank you note for my girlfriend, she has had a though year with me and my health. Though she did never complain, she was always there for me (to keep the smile on my face), acting without any panic when something happened, travelled by public transport almost every weekend 3.5hrs (without delay) one way to see me. Can't express myself enough how thankfull I was you where there during the year. But I think you can call me the real winner with having you by my side! Thanks for everything @dikkie and I'm looking forward to jump into the new year?
But for now, enjoy the special days coming with your loved ones. So Merry Christmas in advance ? and a big thank you for @anomadsoul again for creating a cool contest. ?
Find my post for the #POSH on Twitter
Please Follow, Upvote and Resteem
If you like my content, don't forget to upvote this post and follow me for more every day life stories! Also, I will be happy if you leave a comment to tell me your thoughts and resteem this post to share my work!
Travelfeed
Learn more about our travel project on Steemit by clicking on the banner above and join our community on Discord. How does travelfeed work? Simple just use the tag #travelfeed in your travel posts (min. 250 words) for a chance to be curated!
Steemmonster Guild
We're a group of players who love the game and are waiting for the upcoming feature the guild wars. Surfingnomad is a guild where you decide how much you play and donate. Why donate? To grow our guild we need to raise a certain amount of DEC and Daily Quests to reach higher levels. When we reach the higher levels you will earn extra DEC rewards in ranked play but also get discounts in the shop. These discounts and extra DEC rewards depends on the level of the guild. Would you like to join us on the battlefields?