Although Steemfest 4 is placed in the cold storage for me at the moment I can help to motivate (new) people a bit to go out and attend Steemfest part four in Bangkok. @anomadsoul is back again with his great #roadtosteemfest tag series and this first edition will be a trip down memory lane.
My Steemfest last year was the first time ever joining this incredible event organised by @roelandp. Krakow was for a few days the place to be in this crazy world. And I decided already very early in the year that I wanted to join this event with some fellow @travelfeed curators @for91days and @mrprofessor. For the professor it was a bit of fingers crossed to see if he could manage to buy a ticket and start his bike journey overhere in Europe during wintertime. 7 months later he is still in Europe can you imagine how his roller-coaster ride has been compared to mine? Talking about crazy, I even picked up this fellow Steemian at the airport on my way from the Netherlands to Poland by car.
This meeting was the beginning of my rollercoaster ride called Steemfest. I got to know so many amazing people and some of them I can call for sure friends nowadays. That is THE word what Steemfest is all about, bonding together having fun, making friendships, talking serious about projects, innovations on the Steem blockchain, explore new horizons and return home with a beatuiful chapter added to your personal book here on Steem.
Learning new stuff
The Steem blockchain is a huge digital world and just like in the real world you can't know everything. During Steemfest you have the oppurtunity to learn a lot of different new things you might have never heard from before. I can tell you that I learned a lot!
For example, nowadays Steemmonsters is kind of a big thing on Steem, but just before Steemfest was about to start I didn't know anything about it. I was talking about Steemmonsters (Splinterlands nowadays) with @for91days and he was surprised I didn't know about it. But here comes the fun part of Steemfest, @aggroed was standing behind me. He reached over and said he could tell me "something" about it. At that time I didn't know @aggroed either. He did not only tell a lot about the game, but he even showed it while playing, and level up some of his cards so I could see what options cards could get. Still appreciate your time back then a lot @aggroed!?
As you can see in the above example in a few minutes of time you get to talk with people and learn about something you didn't know yet. Nowadays I'm still playing the game and I even managed to bring some other Steemians (@dboontje and @smalltall) on board to this game as well.
Goodiebag
Not the most important thing, but I need to mention it. There is the famous goodiebag from Steemfest. You'll find a lot of branding from projects on the Steem blockchain, so you'll learn a lot of new names by exploring the containings of the bag. But that's not all by far. We had a great t-shirt from Steemfest and from @blewitt a Spider-man comic, a Steemfest Scarf (not that Krakow was that cold anyway), a real world Splinterlands card with a code so you would have a starterdeck for free.
Activities
| | |
| --- | --- |
| Bear Bowling | Bear Bowling |
| | |
| --- | --- |
| Salt Mines visit and Dinner | Salt Mines visit and Dinner |
Heroes
On this platform I think many of you have a hero, am I right? My hero was @surfermarly (retired) for example. At first she wasn't planning to be there, but at the last moment she decided to come. Was a bit excited about meeting her, and while we met it was like we knew each other for ages already.
Another great person I wanted to meet so eagerly was @derangedvisions. He was running an amazing photocontest back in the days. Indeed past time and boy what do I miss his contests… Every week I was waiting to see what the new subject would be and to check out the winners with some beautifull creations. thanks to Steemfest I met this great guy, and he even invited me to be a [guest judge(https://steemit.com/derangedphotography/@derangedvisions/show-some-emotion-deranged-photography-contest-with-guest-judge-guchtere)] and to think about a new contest subject. I did feel really honoured about that gesture! (the results of the contest you can find here).
New heroes
Like the comic I found in my goodiebag, I also found a lot of new heroes on the Steem blockchain. Some I was already speaking with like @soyrosa, but during Steemfest I did really felt connected with her. Nowadays I can really call her a friend and I'm very proud of that. She even arranged a car to visit me at my place earlier this year to see how I was doing. I think you want to meet her and get to know her as I did so check out her blog and see if she's heading to Bangkok later this year!
Another hero I would like to introduce you too is @coruscate, allthough we only did speak very short together on our way back home. I promised her a ride to the airport and we had a nice chat. She's doing a lot of great things for new kids on the blockchain together with a few other great Steemians with the Steemonboarding project. During our short car ride together we had some great conversations after Steemfest on Discord (sorry I'm not that much online nowadays but I promise we will catch up!).
@saunter was already a guy who grabbed my attention during the curation work for @travelfeed with his great blogposts about hiking, Iceland and other great things. During Steemfest we finally did meet each other. He introduced me to the guys from @wise and @engrave.
There was also this guy who started a conversation with @for91days and me at the beginning of Steemfest. This guy introduced himself as @goodwithtravels. We had a lot of great adventures during Steemfest with nice conversations, drone flights, dinners and a lot of laughs together. The guy is traveling at the moment all over the world and I'm very proud I got to know this guy. You can read some of his adventures at his blog.
| | |
| --- | --- |
| @goodwithtravels | @remyhauxley |
Did you know you can even find future to be moviestars on steemfest!? I've attended the presentation from @remyhauxley. Didn't know him before Steemfest, but I'm glad I found out about his incredible journey. This guy bought 1 Bitcoin and then used to travel the world for 1 year. He did travel to 18 countries around the world. A lot of travel hacking was involved, but most of all the journey was possible thanks to absolutely sensational crypto communities across our planet.
You might all know this guy from the badges you can earn during your life here on the blockchain. I'm talking about @arcange, a really great guy and he created a fantastic game/contest called "Meet the Steemians" to play during Steemfest. He created an app so you could play some kind of Pokemon and you had to catch all the Steemians out there while meeting and scanning. Some Steemians like @lisanomadsoul and @suesa did play this game very fanatic. But there was a certain rule you had to play, you had to talk to a Steemian for at least two minutes! When you found someone you, the first person had to scan, then you needed to talk a bit and after two minutes of talking the other could scan you. You can see the results from last year here. Maybe you can consider to vote for him as a witness after reading this, because he is doing a lot of great things for the Steem platoform like recently he introduced [Steemreply].
Well last but not least, you gotta meet @rustle! I hear you thinking, who!? Rustle is a bird from Australia brought to Poland by @r00sje. You can read an interview with him here and get to know him a bit.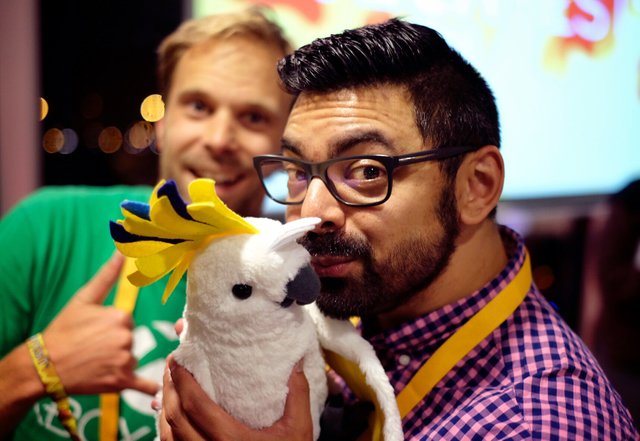 Here you see Rustle together with @tarazkp and me in the background Photo credits: @Justineh
He partied allong with all the Steemians in Krakow and left the building together with @coruscate to start a new journey in the USA. Last thing I did see from him was at a video at the @steemsistershow while he was handed over to @aussieninja! Didn't meet @rustle till now? Hop on the plane to Bangkok, I'm sure he will be there again to party along with everyone.
You know actually there are to many new heroes I need to create a small introdutcion for in this topic, so don't feel offended when you're not in this list but otherwise this post will take me ages to complete (already working a whole week at this post…). I love you all! ?
Adventures
Heroes do need some adventures just like I do. And during Steemfest you also have some free time to go out and explore the area/city a bit.
We did some urbex exploration at the train graveyard just outside of Krakow. After all the party stuff I wandered around by night through the old town for some night photography. Not only at night but also during the day ofcourse.
All that glitter is not gold.
Ok after reading all this you must be excited to get out and book your tickets to Bangkok I'm sure of that. But let me warn you, not everything is that wonderfull at Steemfest. There are some things that can dissapoint you and I have to warn you about a few of them. Yes don't worry there are only two bad things about Steemfest. The first one is it is way to short and the end is there before you know it and you need to say goodbye to all those people you've met…? The second one is because it is only a few days you have not enough time to meet all the great people at Steemfest.
So that is why @anomadsoul is doing the #roadtosteemfest. You'll learn on forehand a lot of new Steemians and the moment you'll arrive in Bangkok you can hug and talk along like you know each other already for years. Saves you a lot of time and will bring you a lot of fun before the party did even start in Bangkok. So I hope to motivate you and attend the #roadtosteemfest topics and to buy that ticket to Steemfest 4 in Bangkok.
Hang loose ?
PS. As you might have heard, I'm not 100% healthy at the moment. A reply at a comment can take a while. Sorry in advance for that… ?
Please Follow, Upvote and Resteem
If you like my content, don't forget to upvote this post and follow me for more every day life stories! Also, I will be happy if you leave a comment to tell me your thoughts and resteem this post to share my work!
Travelfeed
Learn more about our travel project on Steemit by clicking on the banner above and join our community on Discord. How does travelfeed work? Simple just use the tag #travelfeed in your travel posts (min. 250 words) for a chance to be curated!