After our first rugby match we woke up at the driveway of our Airbnb hostess. We woke up early again as we're already used to it. Our hostess came by later in the morning for a nice little chat. She still wouldn't let us pay for our stay. So we could help her by moving some boxes with blankets in her garage. First you think moving boxes, how hard can it be… Till you see the garage when the door opens!
Muriwai beach
Started the day with an easy drive, Muriwai is easy accessible from Auckland. Muriwai has some blowholes and we're planning to walk around through the area a bit. Not too much because later this day finally some windsurfing!!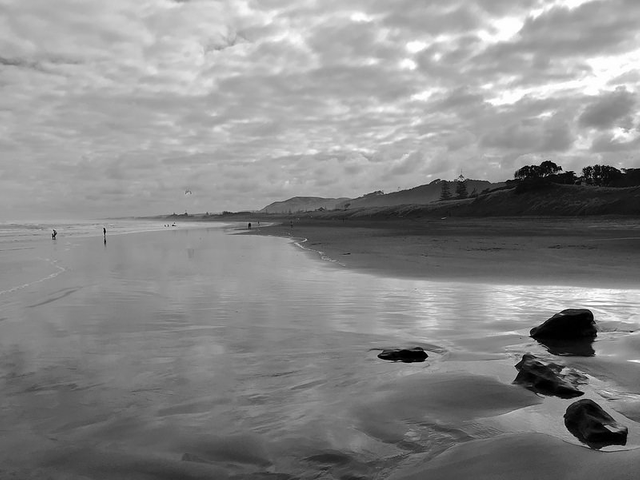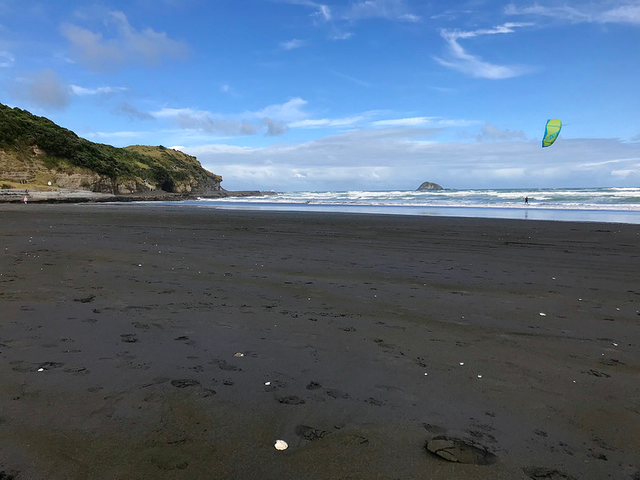 We came for the blowholes but saw a sign that there were gannets nesting here at a rock. Too bad no gannets at all for us, the rock was empty. Turns out these birds are here only for nesting period and then the birds fly out somewhere around April… Summertime is nesting season for them.
Back to the beach which is a nice sandy black beach. There was enough wind, and if it has to be like this finally some more surf action from a lot of kite surfers. Finally, they're using the power of the wind here. Yeah! We watched it for a while and then continued our walk.
At the end of the beach we climbed the rocks the blowholes are supposed to be here. Well your reporter did find out the hard way. I was watching a cave and the sea looks quit calm and woosh there it was the splash from a wave at the rocks. Wetty reporter ? No it's just fun to see the power of the ocean smashing against and through the rocks. Splashing the water meters up in the air.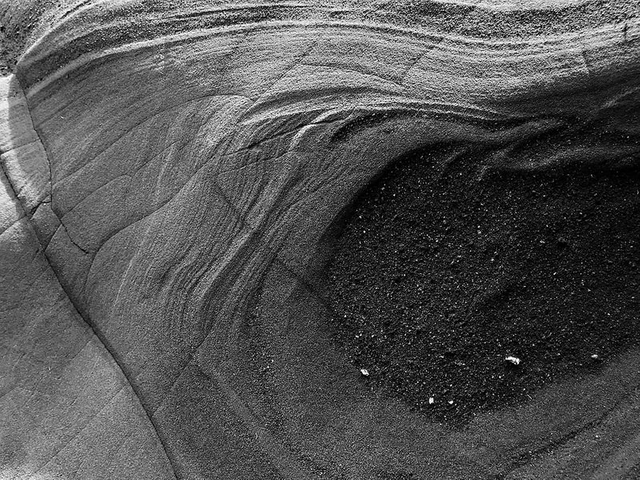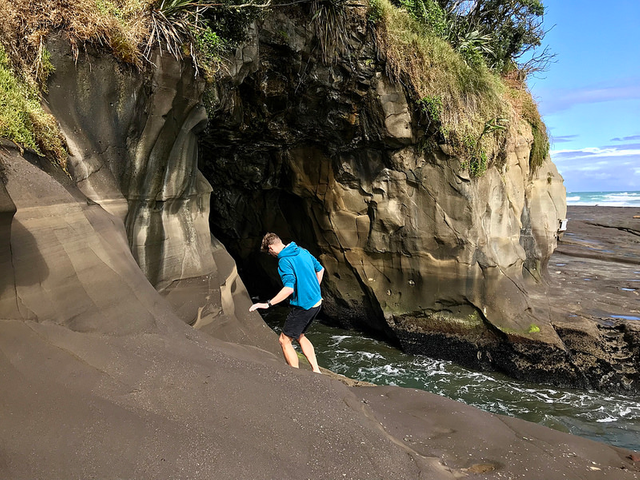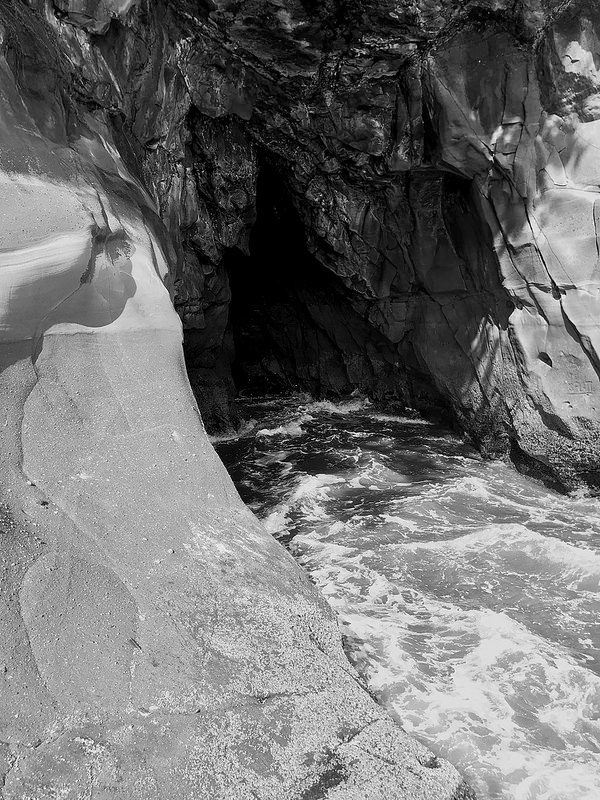 We followed Te Henga Walkway for a bit. This path is leading to another beach called Betthels Beach. We didn't go there because otherwise we wouldn't be on time for surfing later today.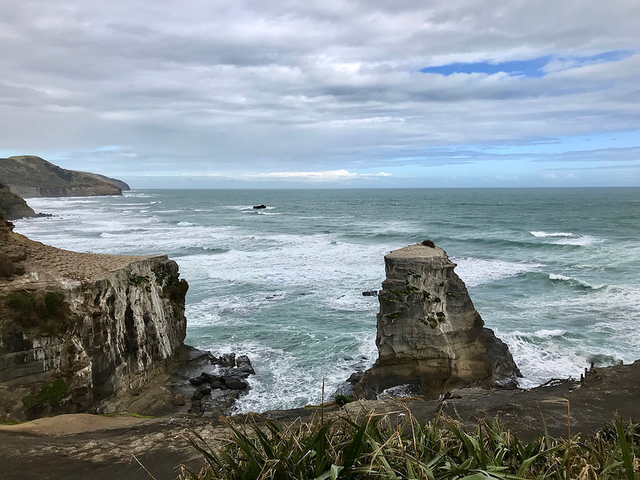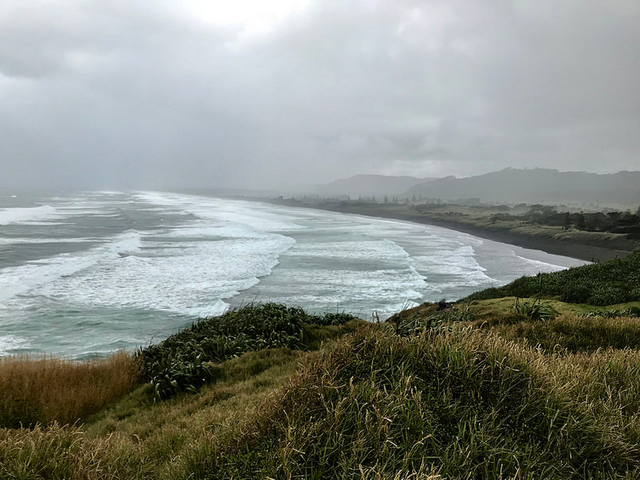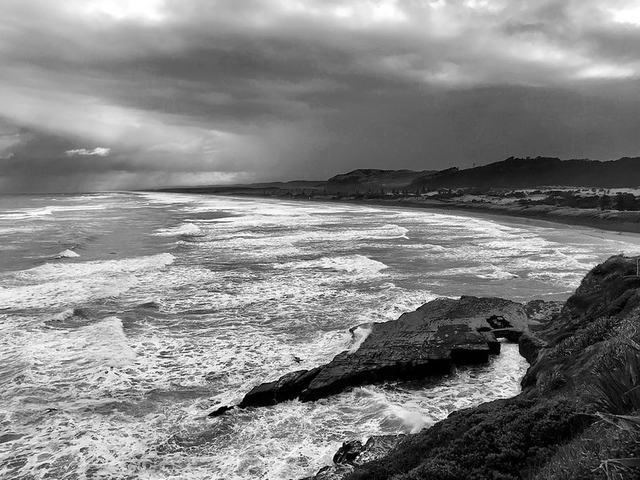 On our way back we stopped again at the blowholes, to watch some local fisherman trying to retrieve the catch in between the smashing waves.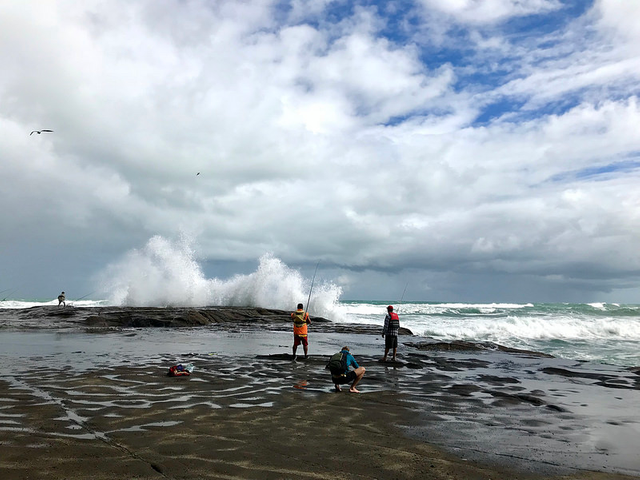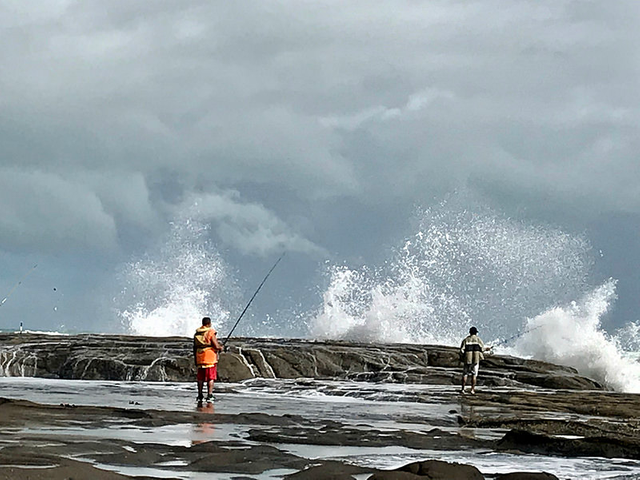 After this we decided to leave Muriwai after a decent lunch selfmade so we could picnic and enjoy this scenery a little longer. Yeah for living the van life! ?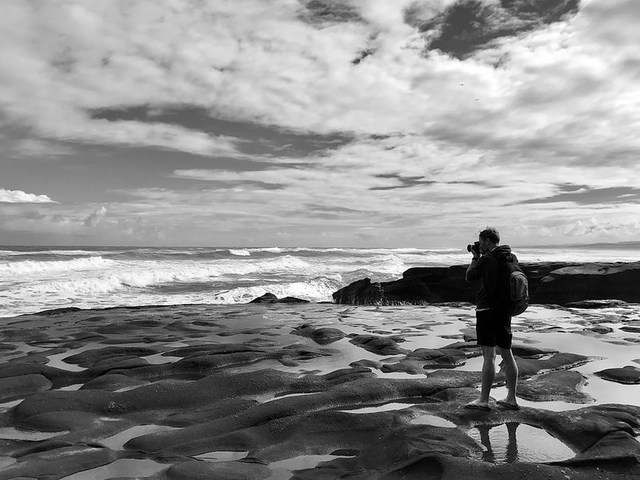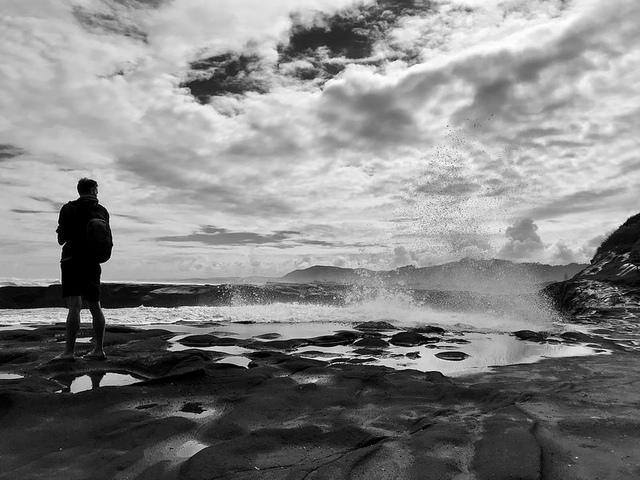 Wind there is always wind…. Wait where is the wind?
When we arrived at lake Pukuke we noticed Alans big bus immediately, can't miss that one. We greeted Alan with his name, which gave us a recurring look like "ok and you guys are?". We told him about our meeting in the stadium last night while watching the game. Alan started smiling he know our friend, yeah! He said what are you used to sail back at home? I told him, and he said well that shouldn't be a problem I'll grab the gear for you from my trailer.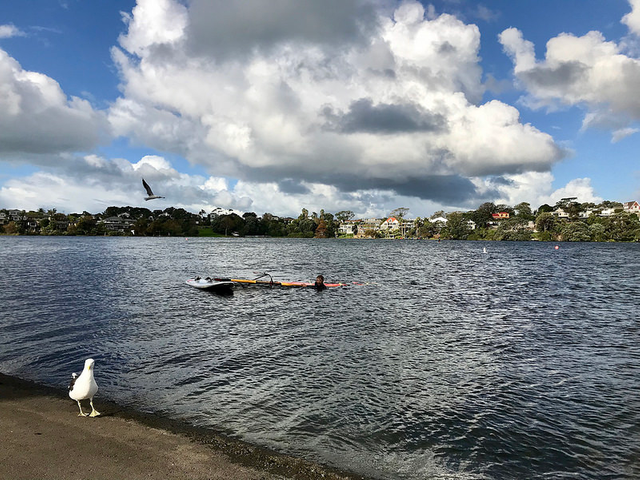 There was also someone using his foil and with almost no wind this guy was planning. Impressive to see. Alan asked me if I would love to try the foil. Yes I would, although I'm not used to ut, so would be a hard learning curve I think. He said no, as a normal surfer you can do this also with ease. Well couldn't try the foil in the end. The guy using his foil crashed with the board and it's nose was broken…?
So surfed with some older gear with not to much wind (wait where's the wind from earlier today!?) but the smile was great? so finally some windsurfing here in New Zealand!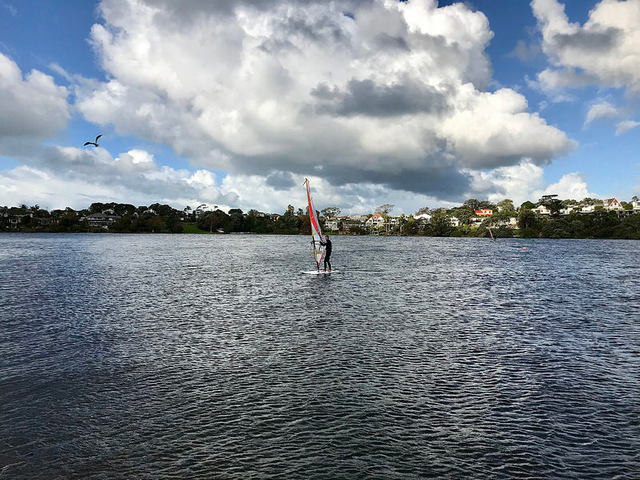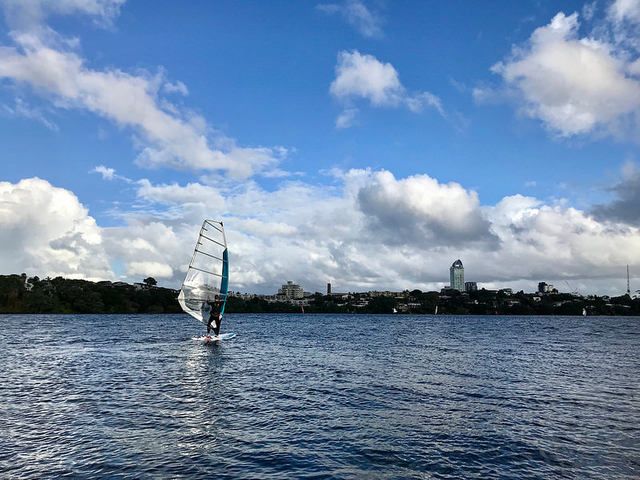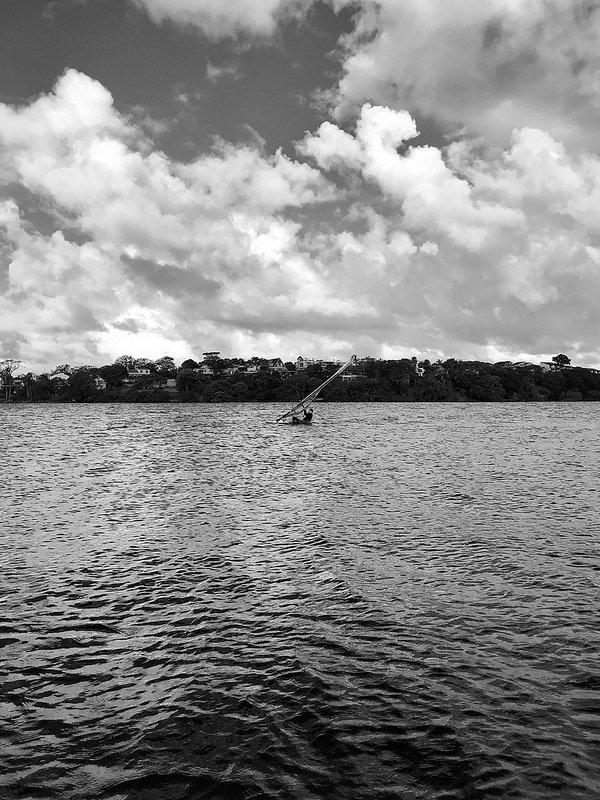 After a few hours we ended the surfsession and thanked Alan for borrowing his equipment and said goodby.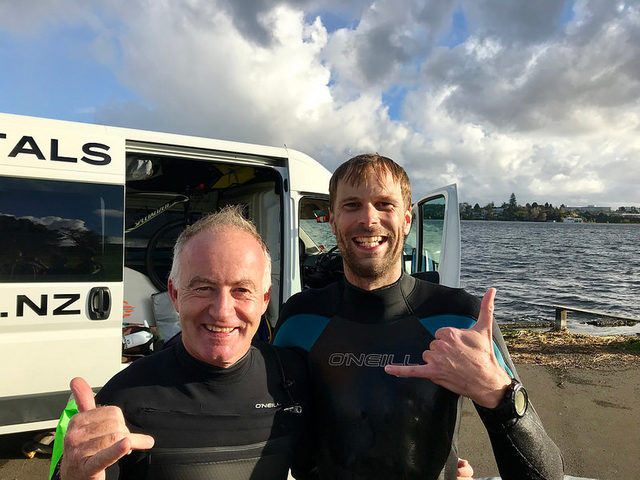 Skyline
After the surf we went back to the city to grab some fish 'n chips and watch the skyline light up while it's getting dark. Took some pictures from different viewpoints. While it started to rain again we said goodbye to Auckland and started our van to go north.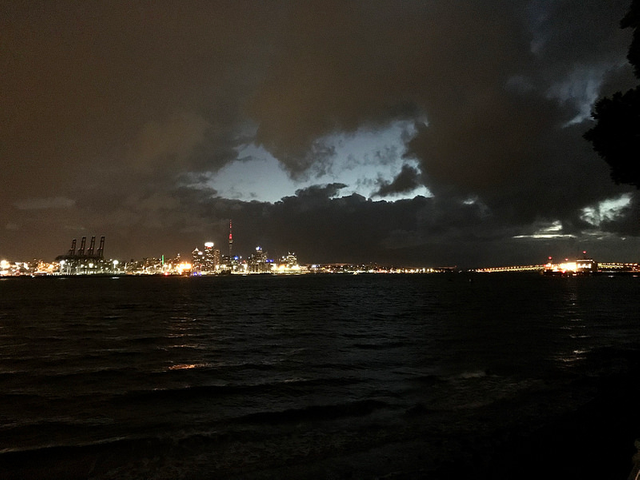 Iphone isn't the best option for these pictures hopefully my Nikon D700 ones are way better?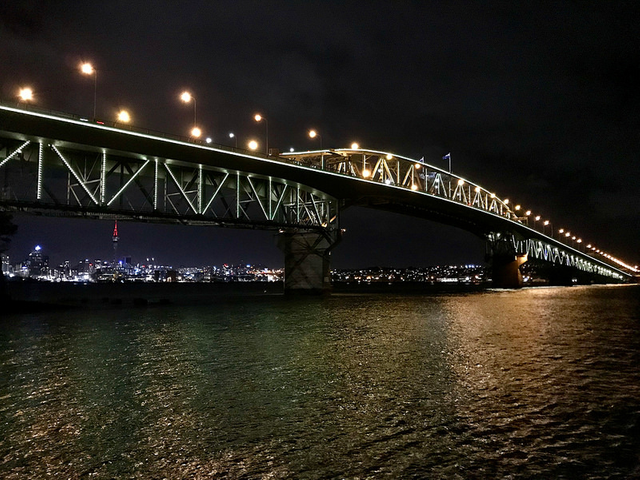 Up north
We stopped at the parking from the Whangarei falls. We were lucky again. There are 2 places for overnight camping and only one was in use. ?
Lets get some sleep and get some rest for the other adventures tomorrow.