Already mentioned that I was gone for the weekend in my last post. I went to Friesland with my parents. Actually, it was part of a deal… my parents aren't living for traveling the world. They always mention "we should go there, do that" etc. but it never happens. So, my sister and I kinda forced them? no just kidding.
There was an offer they couldn't refuse… well actually they tried but it didn't help. We showed them the deal for renting a house including a boat to explore the lakes and canals from Friesland for a whole week. They countered our offer with a deal. We go but the children will join us for the weekend. Off course we will join you we said! ?
No arguments left for my parents for not going. They booked the house and started the week without us. Boating and riding their electric bikes exploring the area around the national park the Alde Feanen.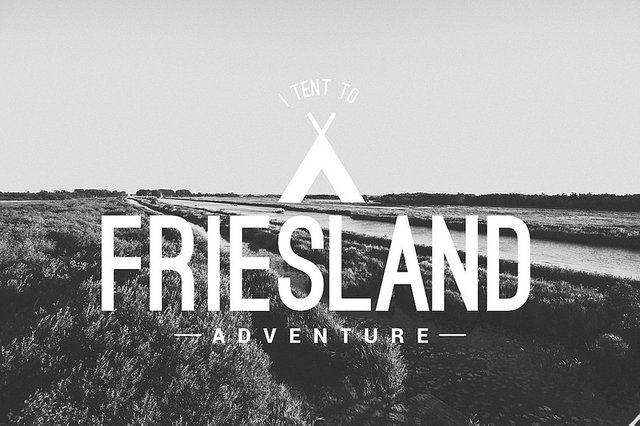 On the Road
Thursday, I left home somewhere at the end of the afternoon. First, I needed to pick-up my girlfriend from the town she's living. So, with a little detour I was on my way to Friesland! Well I can say, Luxembourg is a lot faster drive from my home than Friesland ever will be.
While driving up north finally with my girlfriend sitting next to me. We noticed a campaign about the new Mcflurry tastes this summer. Sorry bad habit but couldn't resist any more while we got near our destination. I took the exit from the highway and first ordered one of the new tastes… And YES it was good, I got the taste sea salt caramel. Next time I can't resist it will be the caramel banana one. ?
While we arrived at the house it was dark already… no more adventure for us tonight. ?
On our way for breakfast
Waking up early I was the first one awake. Nice time to start doing the exercises for my back while everyone was still sleeping. After the exercises I started preparations for breakfast. Baking eggs and ride along my bike finding a decent bakery. My parents bought breakfast from the supermarket… My girlfriend joined me on this ride. We found a nice little bakery a few kilometres away from the house in Oudega. We bought enough bread for just one day. You do want freshly baked bread daily in't it?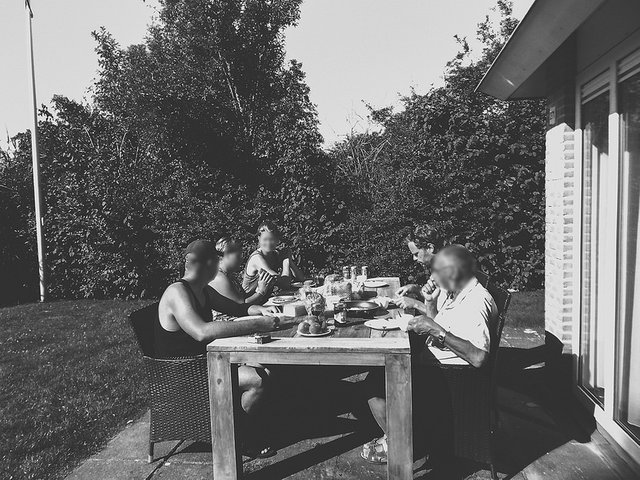 First ride
There was the moment I discovered my parents and I are totally different. Is that bad? Totally not I enjoyed every minute. But my weekend wasn't as adventurous as I'm used to. Because the national parks asks for it to be explored. We started the day with a boat trip, with a course my parents already followed earlier this week. No new adventures for them! Well we had lots of fun. It was a simple boat but not so simple for keeping it at a straight course. Everyone got the chance to grab the wheel and try to keep the boat in a straight line. You can guess one time, first try everyone fails' fun guaranteed!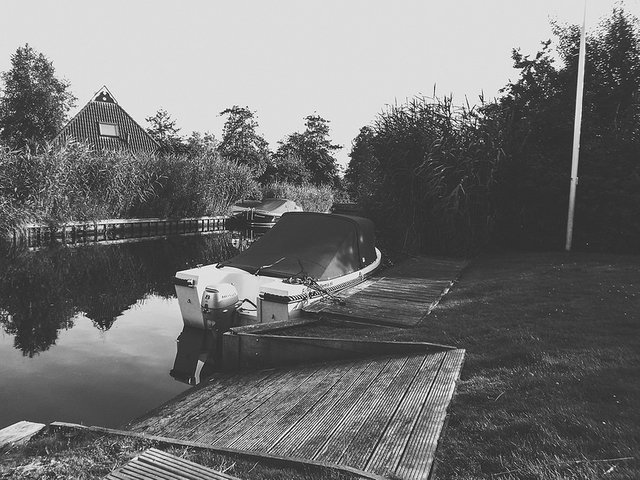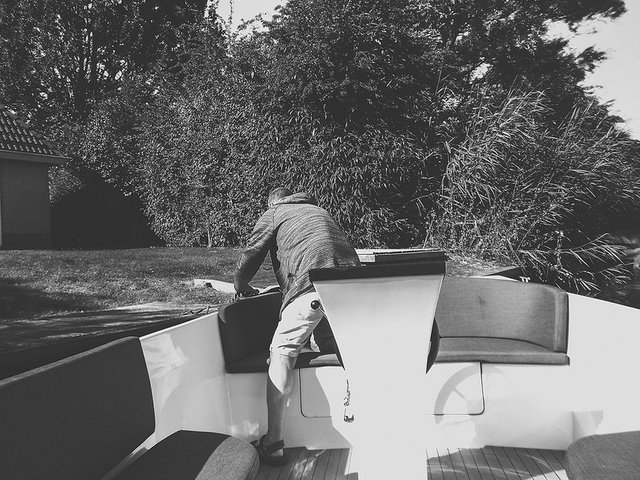 Alde Faenen
The course leads us through the national park Alde Faenen. Its size is around 25 square kilometres. The park contains lakes, forests, morasses, peat and some meadows. You can find a lot of bird species here. The park is also a Nature 2000 area.
In this park, natural landfall takes place. Open waters changes through the growth of plants back into land. This happens through some different processes. One of the processes is very interesting. The process is called vibrating peat. Plants growing at the surface of the water, while there is nothing but crap to be found underneath. When you walk over it (be careful or you'll sink through!) the ground waves underneath your feet. Apart from this there are a lot of different grass lands. One of them is called Blue grassland. One last thing you'll find here a lot are peatlands. Because of all those different types of vegetation, there are a lot of different animal species living in this area.
Flatwater adventure
After the boat trip, we had a lunch together. The afternoon it was everyone by themselves no obligations. My girlfriend and I took our SUP's and went out for our own adventure. Didn't bring my camera because I don't have a proper waterproof bag to keep it dry. But it was fun to get in areas where no boats are allowed. And soon we discovered why. At some parts the fins of our SUP's touched the ground. Good practice for us to balance on the noses of our boards. This way we could clear the fins from the ground and continue our way. We meet a few storks, raising their children high above the ground in their nests. Those special birds are always a pleasure to watch. Fun thing to tell, first time I couldn't keep up with my girlfriend while paddling around. I have a shortboard and hers is longer and floats better, so she should be faster. Her technique gets better and better and with no winds, flat water she's out of my league! ?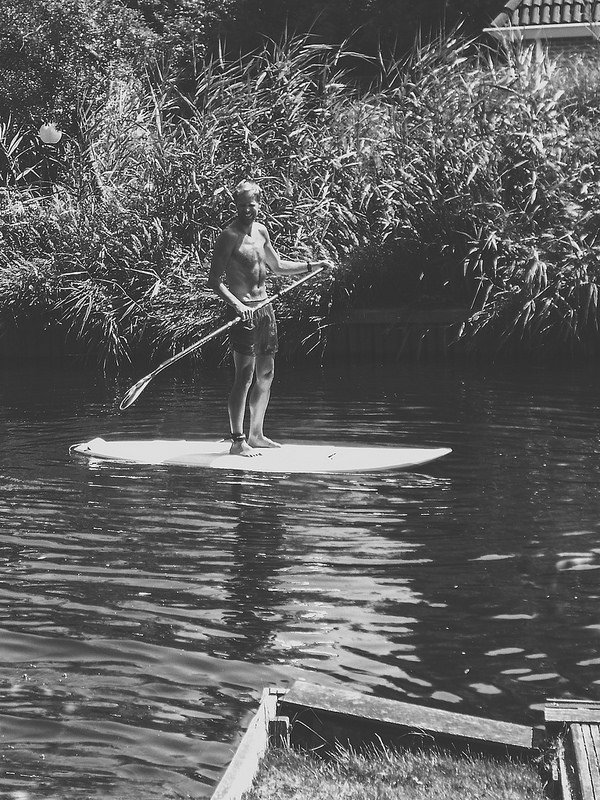 After the SUP adventure we went back to the house, because it was time to BBQ! My dad and I went to the store nearby to get some vegetables, meat and fish for our meal tonight. It was cosy to sit at the fresh water (remember I'm used to salt water and hearing waves all the time) and have a laugh together.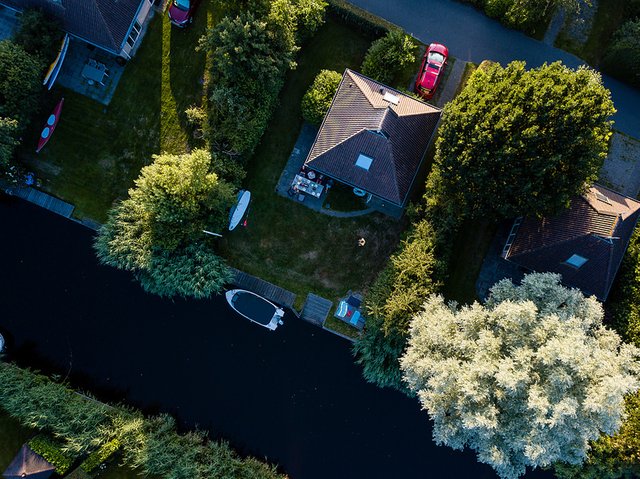 Pirates sets sail
Next day we went out again for a boat ride but now the "kids" set coarse. So, a different ride with a few nice spots we discovered along our ride. We spotted some old windmills their names are Princehofmolen and the Ikkers. The windmills are from the so-called type spinnenkopmolen. Really don't know the right English translation, but literally it's saying Spider Head windmill.
Another thing we discovered in a small channel with the name Neare Saiter. In the channel there was a monument. The monument is revealed at the 15th of April this year. The story for this monument is as follows: In September 2017 at this spot an old Lancaster plane was found. They had a mission during WWII. But they never made it back home, air defense took the plane from the sky, and it crashed in this area. The plane had a mission in the night of 4/5 may. That night 251 planes left England to bomb some airplane factories in Bremen. But not all the planes made it back home.
For those planes they created this monument. There are 251 holes in the wall. In these holes swallow can build their nest. But from these 251 holes 12 are closed. It's the number of planes that didn't return that night. In the closed holes from the wall they put metal capsules with messages in it. The metal from the capsules is metal from the plane wreck. Even the size of the plane they did think about for this monument. The length of the wall is 32m long, this is exactly the same as the span from the Lancaster. The swallow is in my country also a symbol for a way back home. The plane is now on display in the visitor centre of Alde Faenen.
To surf or not to surf…
On our way back, my girlfriend and I decided that we wanted to search for a windsurfspot. The boyfriend of my sister asked if he could join us, so he could learn to windsurf. No problem at all, always fun to learn someone the magic of blasting over the water. But this created a extra problem for us, it needed to be a safe spot with the wind blowing at the shore instead of blowing away from it. We did find one spot, but the shipping traffic was right next to the swimming waters. So not safe at all for a beginner. No surfing for us. But no worries I'll ride my board back home.
While we returned at the house the evening just started and we had a BBQ again. An early one because my girlfriend and I wanted to ride our bikes during sunset through the area. We grabbed our bikes after cleaning everything. Here we discovered only a small problem with all the small channels and not too many bridges. The small ferries are off duty after a certain time. Guess what that's way before sunset.
Last day of the long weekend
Our last day we had a boat ride again. We choose to visit the small town called Drachten. Lots of headwinds so no speed at all, but the sun was shining so we just sit back and relax and enjoyed the views. At the town we did a small walk till we found a nice restaurant for a proper lunch and after this it was time to set coarse back. Because my sister and her friend needed to get back home.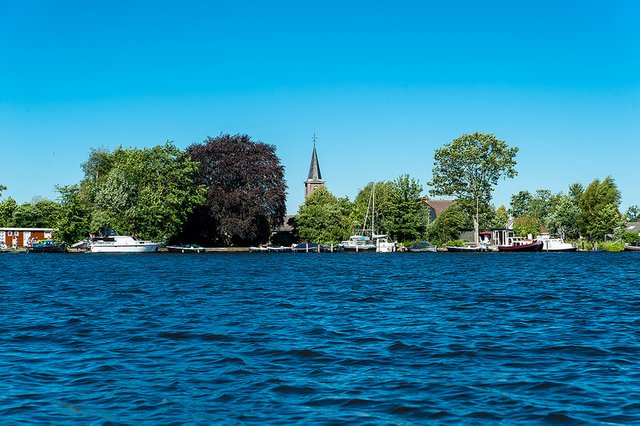 While we dropped my sister and her friend, the best thing from the weekend happened. My father grabbed the biggest SUP and he got out on the water. What a talent, he didn't fall off and paddled like he did this his whole life. I was so proud that he had the guts despite the warnings from my mom to do this. I just don't have the words to describe it. Too bad his stamina isn't that great anymore because of the medicine. He had to stop because he got tired. But I'm sure I can bring him along on one of my trips to improve his stamina and see him smile on the board!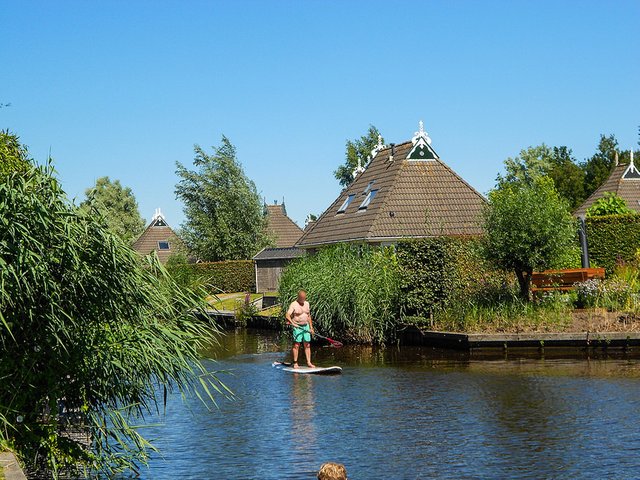 In the evening we had our last dinner with my parents. We grabbed our bikes to order ourselves a meal at a fish seller. After this we said goodbye and thank you to my parents and set course back home.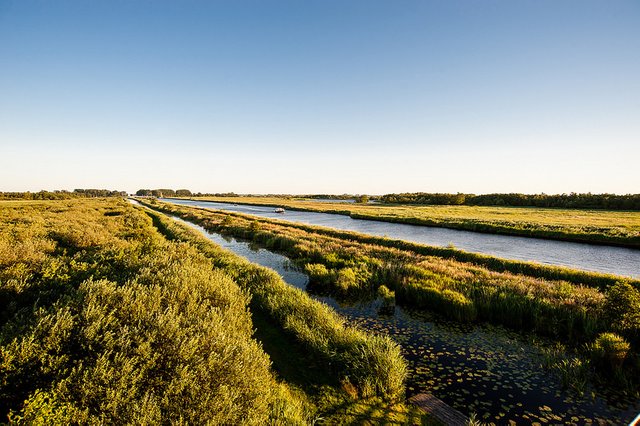 Mum, dad thank you ?
Mum dad, thanks for the nice weekend. Our standards for traveling totally don't match but I enjoyed it very much. Oh and dad don't forget, hang loose! ?
Please Follow, Upvote and Resteem
If you like my content, don't forget to upvote this post and follow me for more every day life stories! Also, I will be happy if you leave a comment to tell me your thoughts and resteem this post to share my work!
Travelfeed

Learn more about our travel project on Steemit by clicking on the banner above and join our community on Discord. How does travelfeed work? Simple just use the tag #travelfeed in your travel posts (min. 250 words) for a chance to be curated!