Today no wake-up at the beach but next to a waterfall inside a town, this is only possible in New Zealand I think? We're in the Whangarei area and how original the falls are called Whangarei falls. But wait! This area has a lot more to offer although this is probably one of the most photographed waterfalls in New Zealand (way to easy next to the road). But for sure this is the prom queen of the town. Don't wait for me I'm gonna ask her for a dance! So, didn't even take time for one coffee, first this beauty from 26m high. This classic curtain waterfall is way more beautiful than the one we've seen at Rere. And I hate to admit this, but already being back home I've found this website with all the waterfalls from New Zealand and found this ugly duckling that actually is the most beautiful swan and it's only a 20 min walk from the prom queen. It's called Paranui falls. Guys really don't miss this one if you see the pictures from the waterfall link I gave you. I missed it… ? Just follow the stream downstream from the Whangarei falls.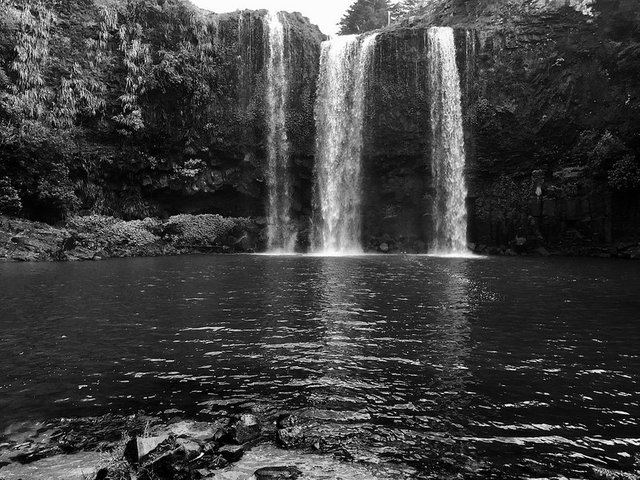 After a little dance with the prom queen I really needed a coffee! ? So that's the reason I missed Paranui I think. From here on to the next curtain waterfall called Rainbow falls. That sounds promising isn't it?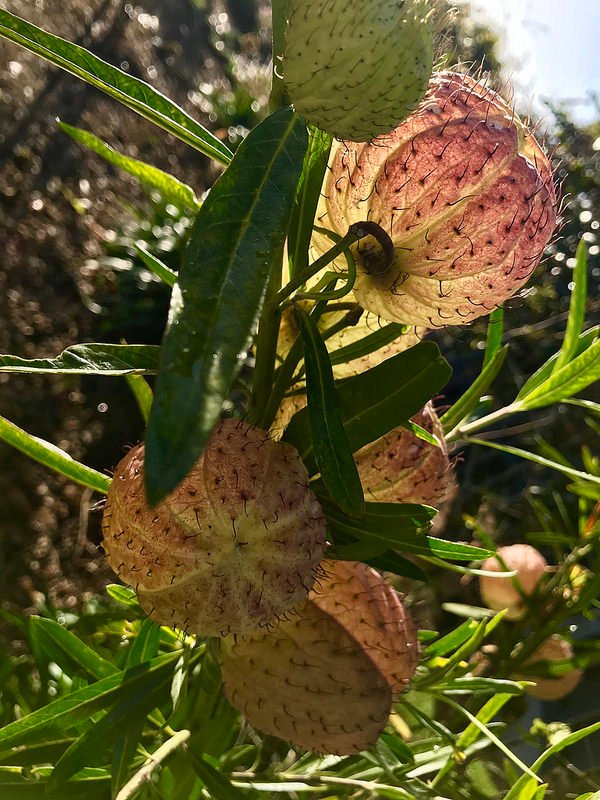 Does anyone know the name of this plant? It's growing along the Whangarei parking.
Rainbow falls
Well another prom another queen. I'm really thankful there are a lot of proms!
This looks like a delicate dandy waterfall but wait there is more underneath the surface. Or more behind the curtain of water? Anyhow first the falls! ? The name is exactly what these falls are, when standing on the top platform or near the base, and the sun is right you can see them in the spray. What? the rainbows off course!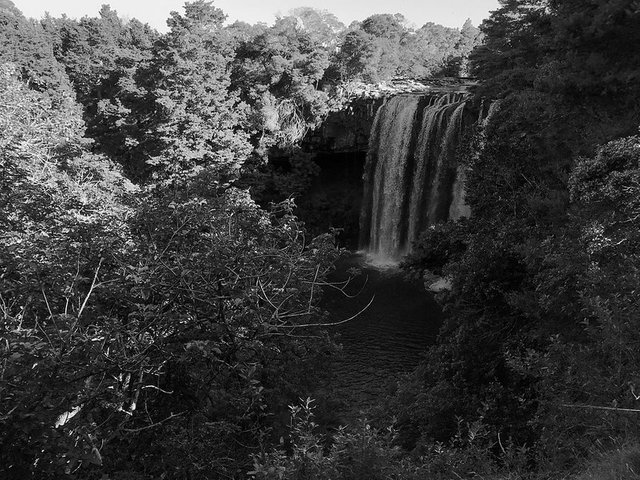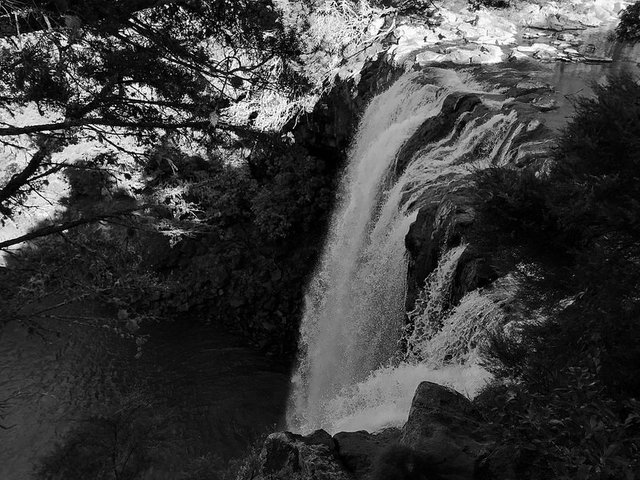 From the top view to the base is just a short walk. So, don't rush to get down. First enjoy the view from the top platform. Ok I'll rush down, so I can tell the secret from this fall. Once at the base, just hope you brought your watershoes and shorts. We're gonna get wet. Yes it's time to get behind the waterfall again. Behind this one there is big cave! Be careful it's slippery to get here.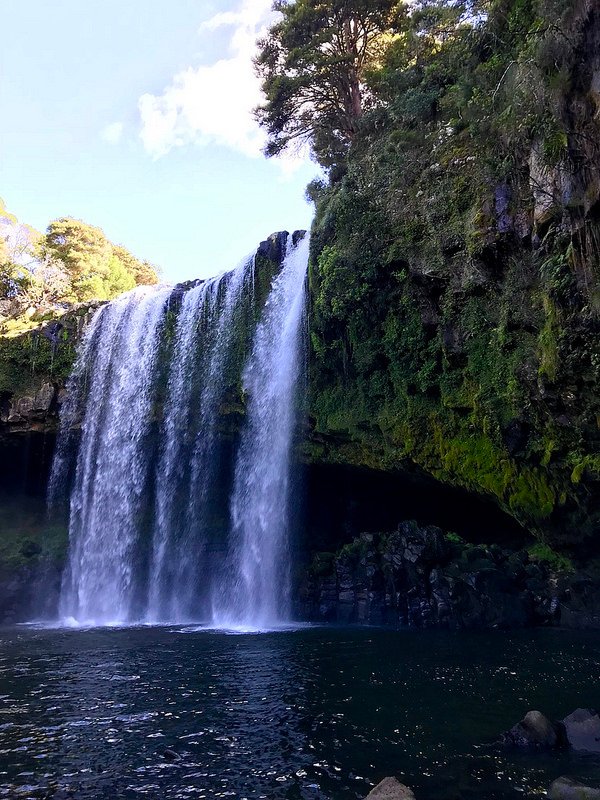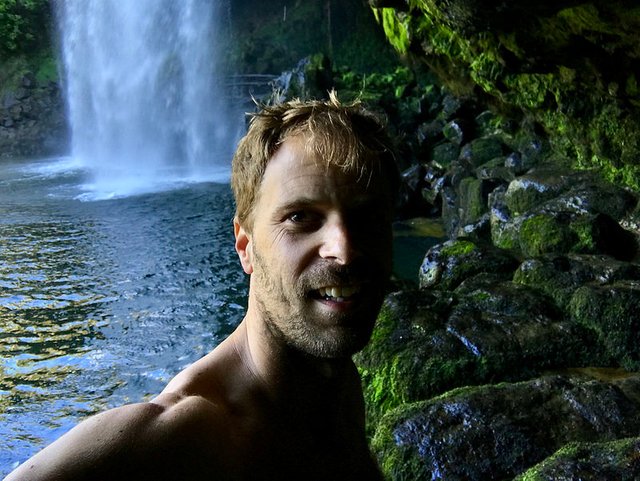 Puheke hill
Ok enough waterfall pleasure for today, I need to work on my tan, you never know when I see another prom queen. We're heading to the beach, and not one we have here in the Netherlands for sure. This beach has a volcano rising from the white sands. Need to see this with my own eyes. So we're starting the van and drive up north for Puheke hill. This hill is a small volcano rising from the beach till a height off 130 meters.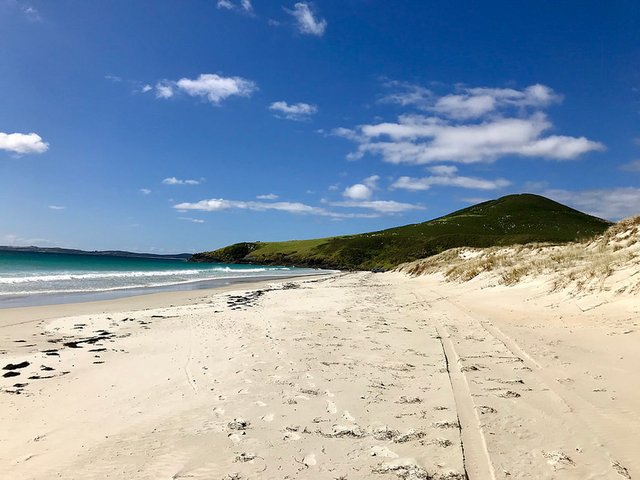 While we arrived at the beach, I couldn't believe my eyes. Only bounty views again wherever I look, white sands, azure waters. We entered the beach from the lower carpark, but this was kinda crowdy with locals fishing with big toys. Radar guided fishing what the!? Fun talking to those fishermen. Actually, it's just like surfing you always want better equipment for going faster, they want it for more and bigger fish. We're all the same.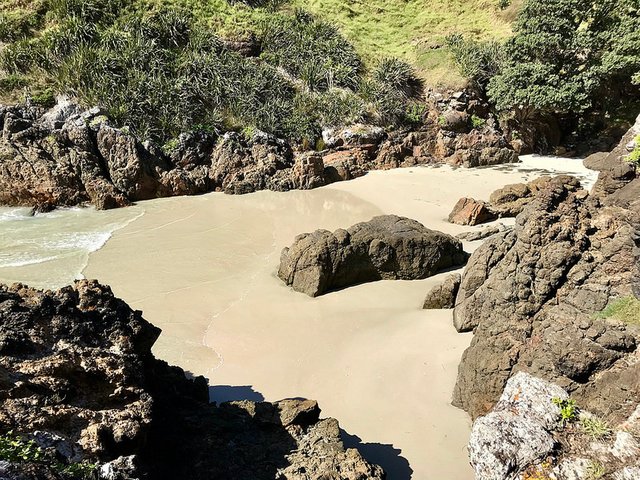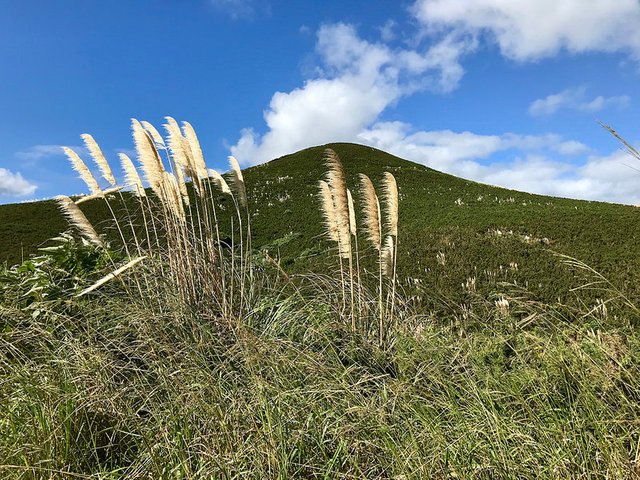 After a little chat we went for a walk, hoping for a private beach behind the volcano. So, we walked till the upper carpark, but there was no path for a walk around the volcano.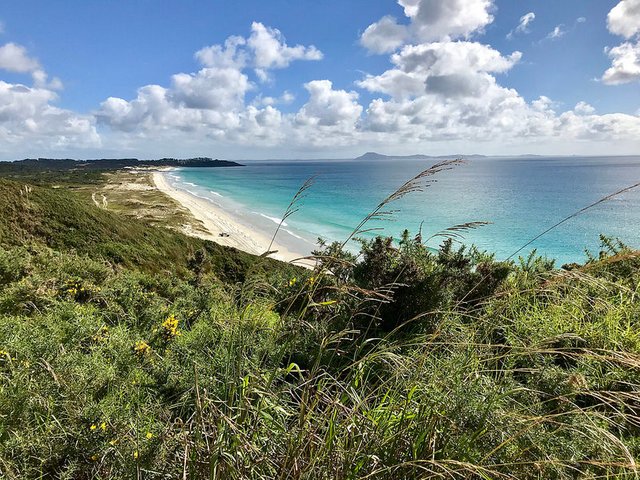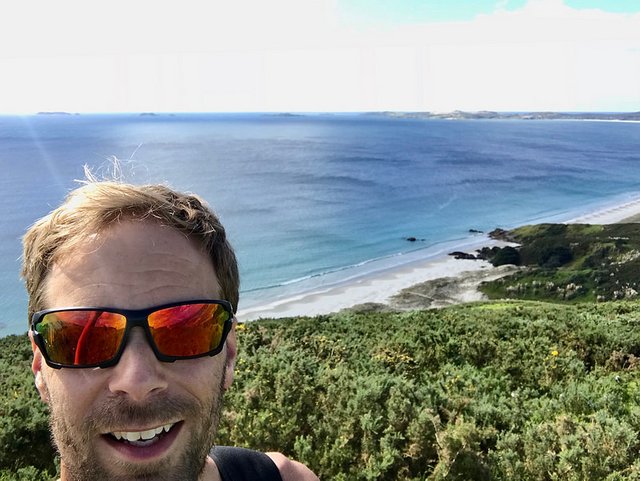 This really is a forgotten place. So, we wandered around through the grass covering the volcano. We got out on this adventure and went out for a walk at the east side from Puheke hill. Turns out this is real paradise, we wandered around and really didn't see anybody. But we found a lot of beautiful hidden coves. With sand white as snow and black volcanic rocks and green grass and azure waters. Guess nobody is here because you can't get here for the next 5 km or so. There is a lagoon inland keeping all the visitors away I think? So what do you do when you got a bounty beach for yourself? Indeed, my swimming pants didn't leave my bag, time for a skinny dip yeah! ?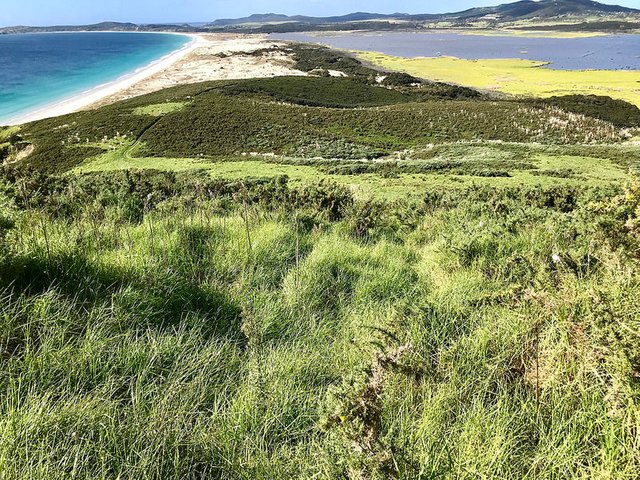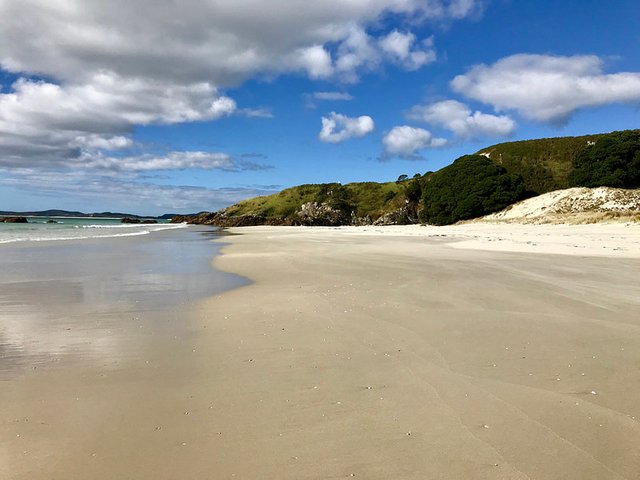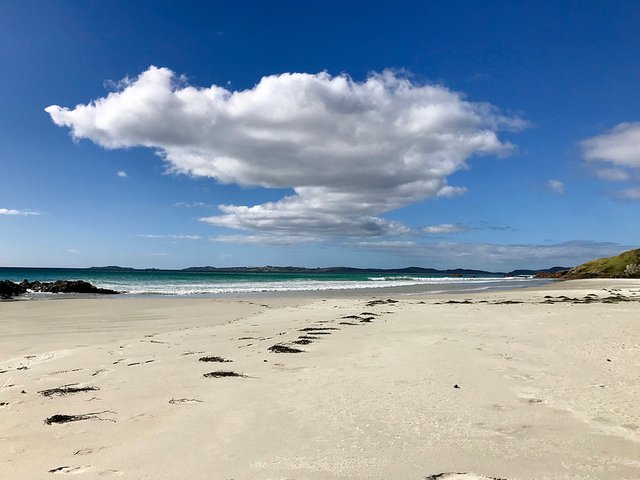 We enjoyed the water for a while and got ourselves sun dried at the beach seeking shelter for the winds behind the volcanic rocks. How many beautiful things has New Zealand left? This volcano is the black swan of the day for sure.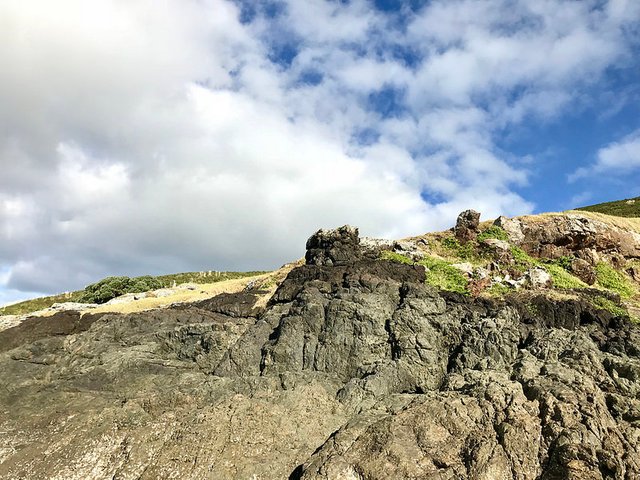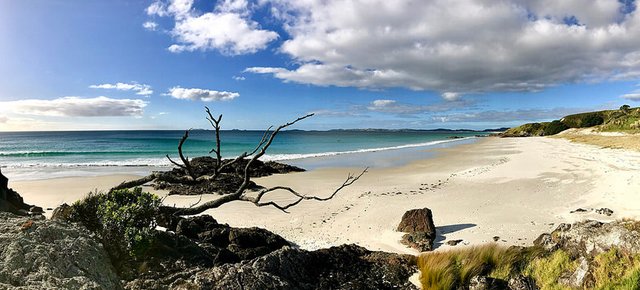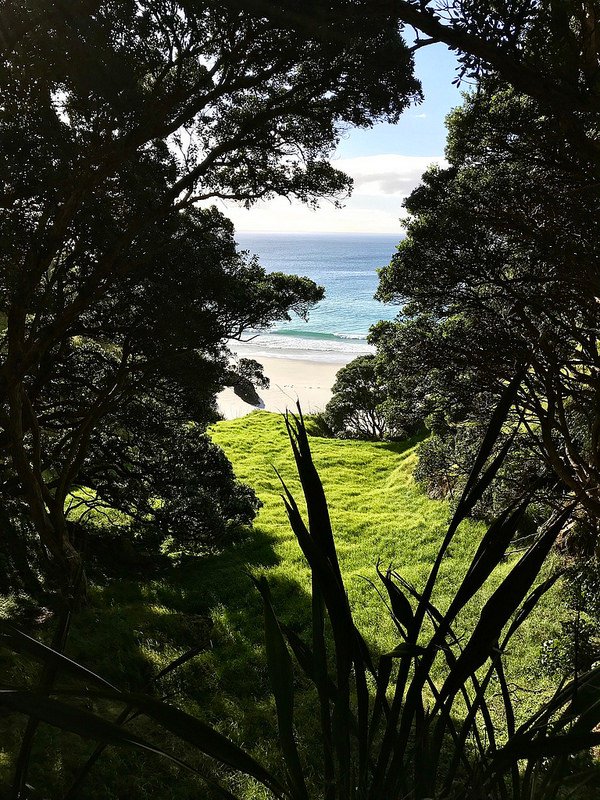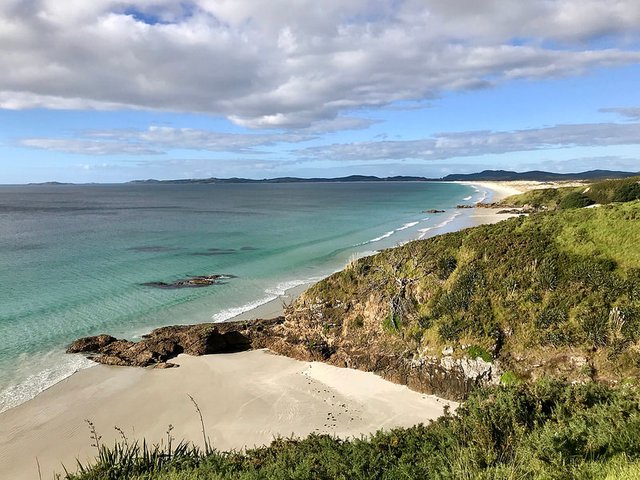 After a while we headed back to our van, to find a spot somewhere along the beach for a sleep. We found a camping spot at Doubtless bay. We met a nice kiwi farmer couple there and had a chat before we got to sleep. Perfect end of the day! Sleep well.