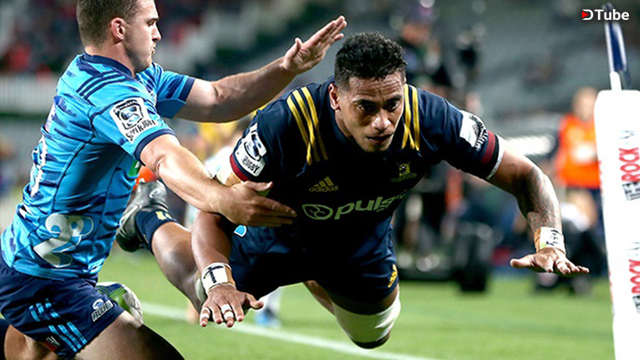 ---
Today we got up early because we wanted to be at Cathedral Cove beach before the crowds got here. The start of the day looks promising with lots of sunshine at a clear sky. This will be a day to remember I'm sure!
While entering the town border from Hahei you're already welcomed by a sign to park immediately on your right. Yes you need to walk a bit more, but a perfect carpark with nice toilets. Great thing to keep the town for the people who are living there actually. From here it's a easy walk to Cathedral Cove. Depends if you explore the other bays or not how long it takes till you get there.
Cathedral Cove
While walking to Cathedral cove we enjoyed the sunshine already, and it's a nice short walk along the coastline. We decided to keep the other bays for our way back, because we hoped to see Cathedral Cove without all the people.
Guess what we're lucky, we had the beach almost for ourselves this morning. A few watertaxi's and a family enjoying the sun at the beach and that's it. The beauty of the beach stays out of sight behind the trees until you enter the beach from the stairs. From that moment it's just WOW WOW WOW a lot of beauty squeezed into such a small beach. Mother nature has outdone herself here.
The water was calm and clear today so perfect for swimming! But first explore the beach, there is a waterfall at the south wall. It's kinda hard to see in the harsh lights but clear fresh water is sprinkling from the rocks at the beach. There are some hidden caves at this side, well they are in plain sight, but you need to access the water to get there. There are some beaches hidden in the caves you can't see from this beach.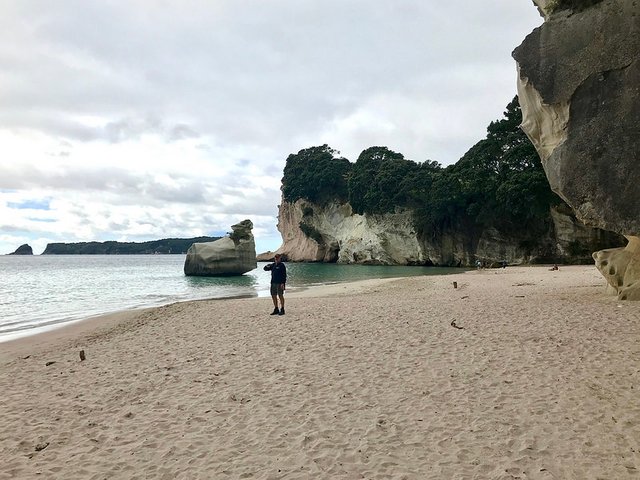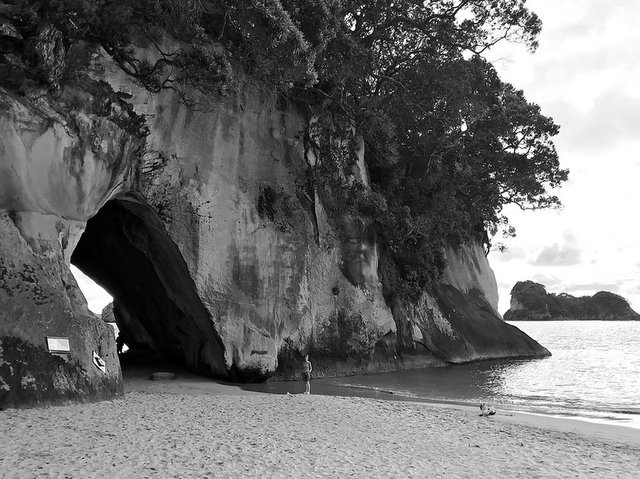 Then we headed for the most famous part of this beach, the view from the cave looking out at the giant white rock standing there in the ocean. Nothing can prepare you for this view. Sun shining at the giant rock in the blue waters while you're standing in a giant cave, surrounded by white sand. Ending in a white cliff covered with trees. This is what they call paradise. Maybe you know this place while you haven't been here. It's the scene where the Pevensies return to Narnia for the second time.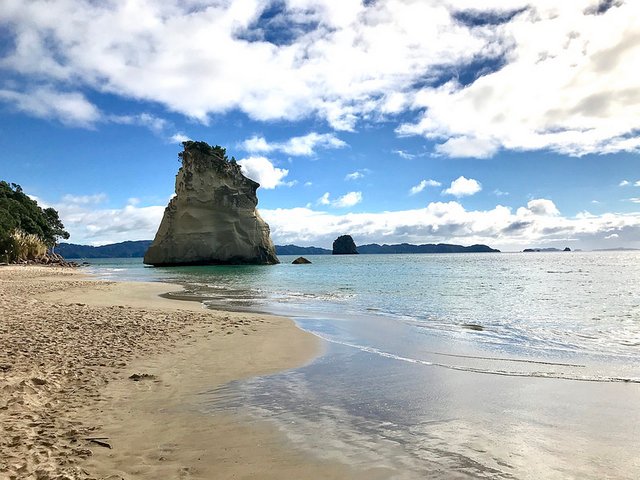 Explore the other bays
We enjoyed the sun here for a while but instant a lot of people got there at the beach. So we decided to get out of here and discover the other beaches on our way back to the van.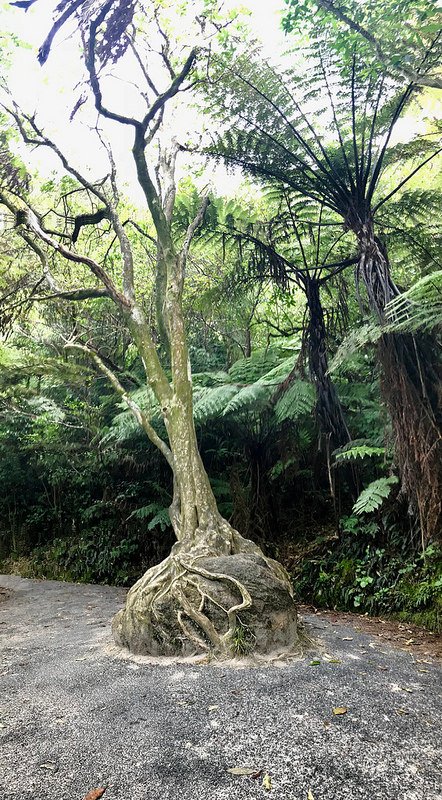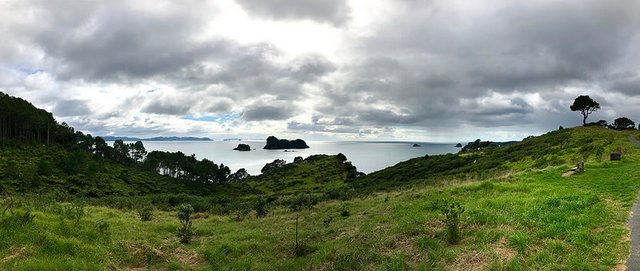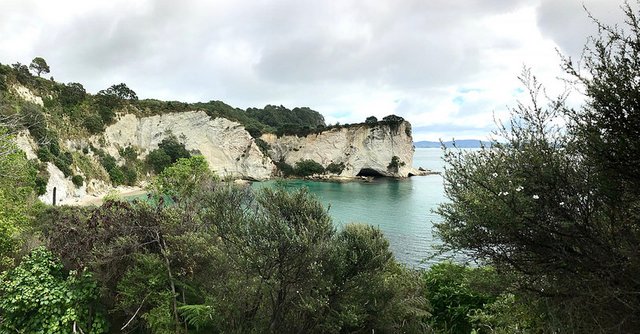 First beach we entered was Stingray Bay. Maybe this beach is even better than Cathedral Cove. Why? Interesting rock formations you can climb on while swimming in the water. Well this is just more fun. Fun is here, while beauty is at Cathedral Cove. At the north of this bay you can swim or climb your way to a small cave. Watch out here lots of weeds makes it slippery.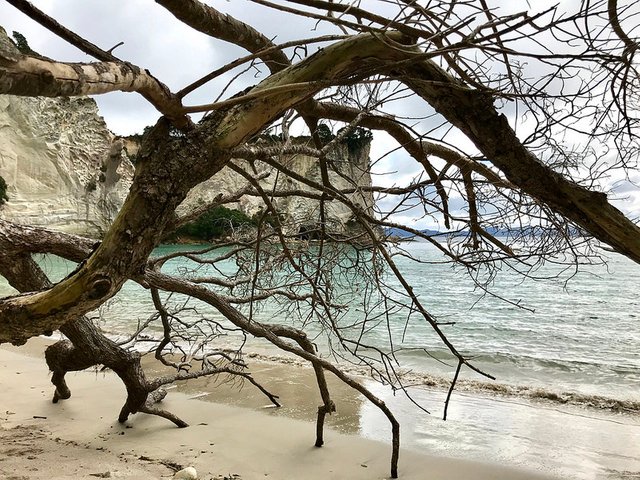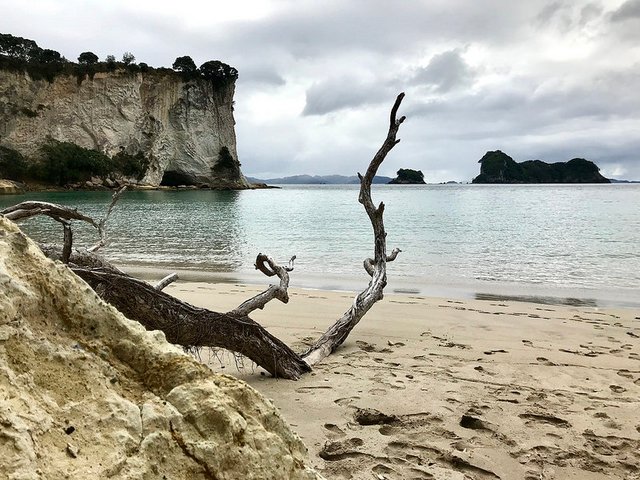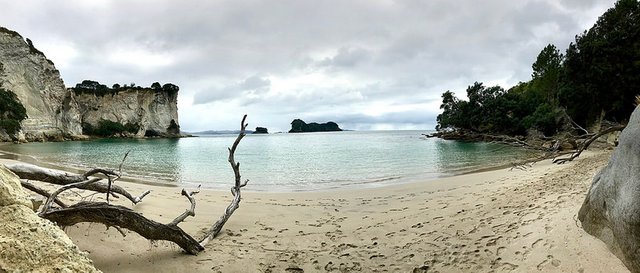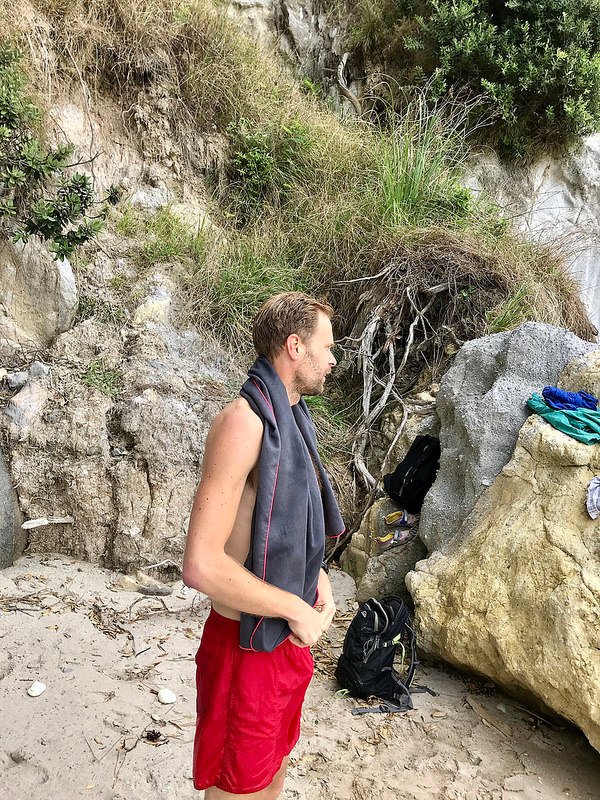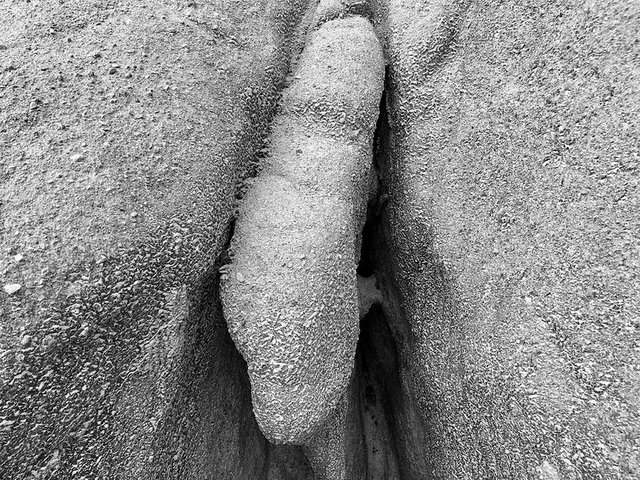 The second beach is not really a beach. The stairs just bring you to some rocks where you can enter the water for a snorkeling course in the water. So do bring your goggles with you while going out for a swim here. Lots of fishes and colorful stones. It's actual name is Gemstone Bay. They setup a underwater course which you can follow. Small place to keep your stuff dry, so get there early on a sunny day.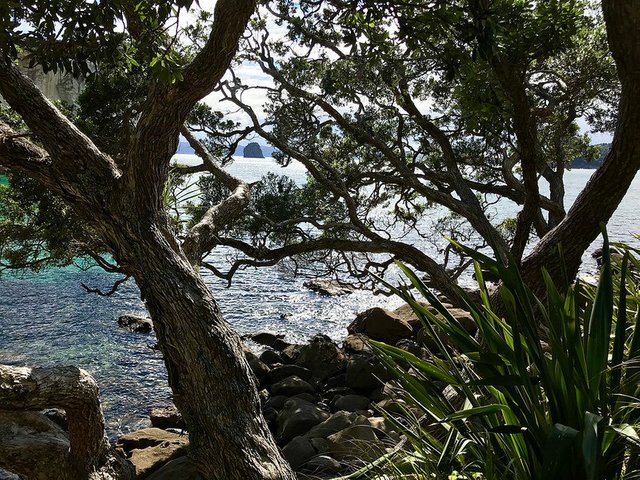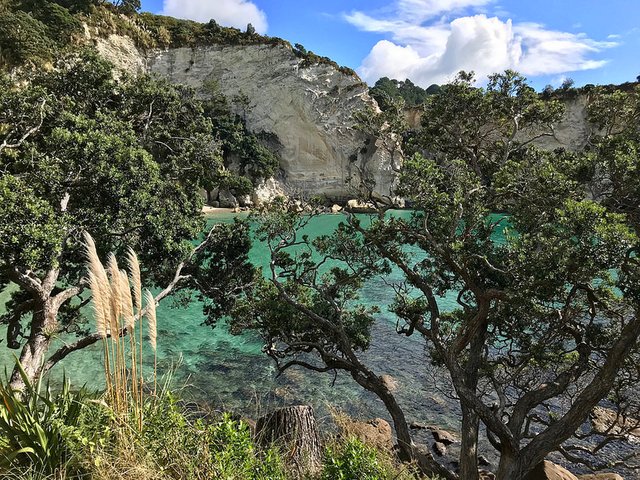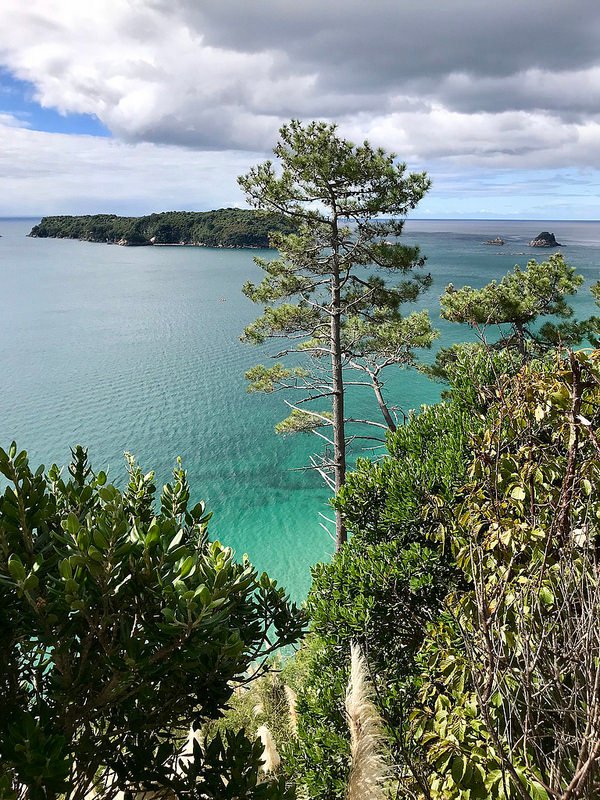 Prepare for the game tonight
While walking back we thought about a plan for parking our van and where to sleep in Auckland. We decided to make it easy for ourselves and ordered a Airbnb for the night with a free parking. So we could get a decent shower and don't have to worry about our stuff in the van before we go out tonight.
Auckland
Turns out our Airbnb hostess was the best you could hope for while staying at a host. Turns out she thought we wanted to stay with our van at her lawn. So, she didn't want to have any money from us in return she just thought it was nice that we choose her to stay while we go out for our first rugby match ever. We said it was ok, we will pay otherwise we would have to pay for parking the van around the stadium. But she insists at sleeping at her lawn for free. We could even use her shower, use her bathroom and grab some food/coffee from the kitchen. So, our host turns out to be fabulous! Kiwi kindness will be one of our highlights, and Sandra out stands the average kindness we already experienced along our trip in New Zealand.


Back to the game, I was really excited about seeing a rugby match at the country from the All Blacks. Too bad we couldn't see a match from this team, but we were happy to see the Auckland Blues instead. It was a short walk from the house of our host to Eden Park.
While we arrived at Eden Park it turned out that it won't be a full stadium tonight… there was another match in another rugby league in town. No crowded stadium with a lot of kiwi's going crazy tonight. But otherwise I wouldn't have met another Steemian. While walking through the stadium on our way for a burger I saw a well-known silhouette sitting in the crowd.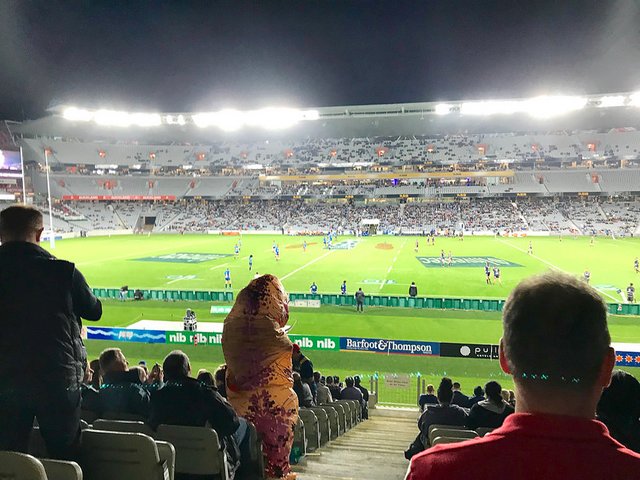 There was @trexxie sitting on a chair waving the Blues flag. Had a little chat and then we needed to get a burger and get to our own seats. The game starts!
Some pre-match statistics I've learned in the stadium. The Highlanders won nine of their last 12 games against the Blues. Including the last three, but they have never won four in a row. So, the Blues have the mathematics on their side!
Ok apparently not because unfortunately for the Blues their run as being New Zealand's weakest Super Rugby team is continuing this year. The Highlanders on the other side they are in a fairly good nick so far this season and are fourth in the New Zealand conference. The Highlanders and Blues did already meet this season with the Highlanders coming away victorious.
While sitting on our seats we met Michael. A friendly kiwi who explained everything that happened on the field. Thanks Michael, for your patience and perfect beginners crash course you gave us.
Well the match starts with an ANZAC pre-match. Michael explained to us that kiwis usually don't stand-up before a game. Only when the All Blacks are playing. But ANZAC is a special moment for everyone so that's why they are standing proud while everyone holds his breath for a minute of silence. It's an honor to all the soldiers from Australian and New Zealand who served and died in all wars.
Priieet (A whistle blows), the game is on. The Highlanders rush in the first minute and the Blues where soon on their back foot somewhere at the 22m area. Well actually this goes on and on. The Highlanders are way better than the Blues. The Highlanders were leading at halftime.
During half time we chatted along with Michael. He told us about his passion for the Blues and sporting in general. It appeared that Michael was a passionate windsurfer in his younger years. So he told us stories about which spot to go for a good session here in New Zealand. He even told us about his friend Alan McIntosh. He is running Madloop Windsurfing a surfschool in Auckland since 1994. He told us we should go there for a nice session on the lake there with his old friend Alan.
Priieet. The Highlanders where fastest out of the blocks right after the whistle for the second half. They keep dominating the match until the last quarter. From this point the Blues finally started to show a considerable improvement on their attacks. Bus despite from these improvements the Highlanders held on for the victory and won the game. Blues 16 against 34 for the Highlanders.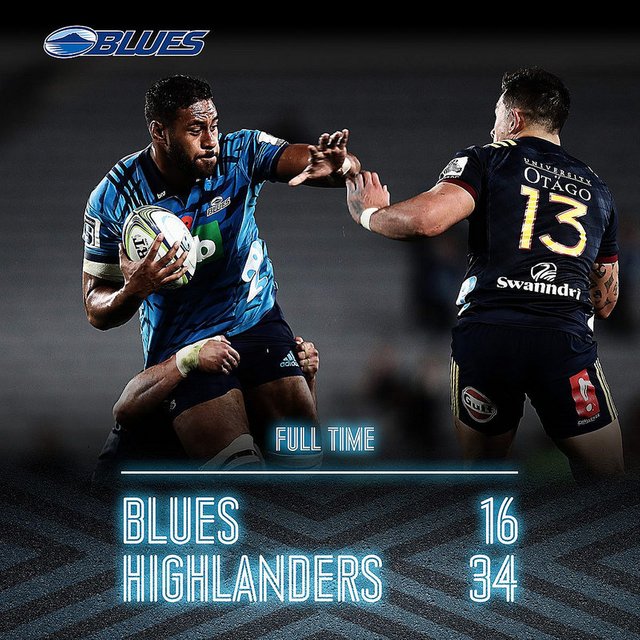 Source: https://www.facebook.com/theblues/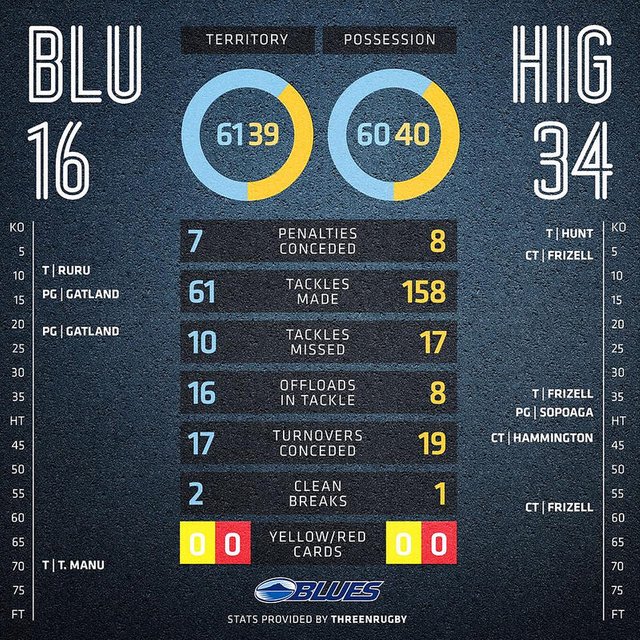 Source: https://www.facebook.com/theblues/
Too bad the Blues lost their game against the Highlanders, so no party for us in the stadium. We said goodbye to Michael. I hoped to see @trexxie again to have another chat with this dude, but the stewards directed us right out of the stadium. So, @trexxie I hope to talk to you again somewhere in the future during your quest to scare people and meet other dinosaurs. You weren't that scared actually.
We felled a sleep on the lawn from our Airbnb host while it started to rain again. Goodnight all!
---
Sources used for the video
https://www.facebook.com/theblues/
https://rugby.com.au
music used in the video Dotan – Home