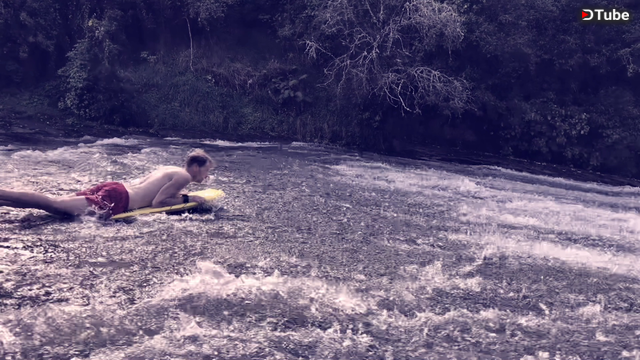 ---
Today is going to be an exciting day, we're heading to the Rere rockslide. But first getting to know our neighbours here at the beach campsite. One of our neighbors has a spray-painted bus bought from Escape rentals long time ago. IT was old rental one. Not as good as ours he thought but at least he got the superhero's on his side to protect him! He was just living the van life. Do some seasonal work and surf whenever and wherever he can. Loving his mindset about this. Our other neighbors have a common thing as well. He is a real kiwi but she's from the Netherlands. She moved to NZ because of him. Isn't that sweet? They live on the South Island but do like to travel the North now with their little girl because the kiwis have holidays at the moment. They're trying to live the van life as much as possible, but feeling it's getting harder and harder here in New Zealand. Because it's just becoming more and more popular these days. 10 years ago, they had only their van and they could park just about anywhere. But nowadays there are so many rules for staying at places with your van it's not an option anymore for them. That was also the reason they got to this beach, no rules for standing here with your van, and not to crowdy.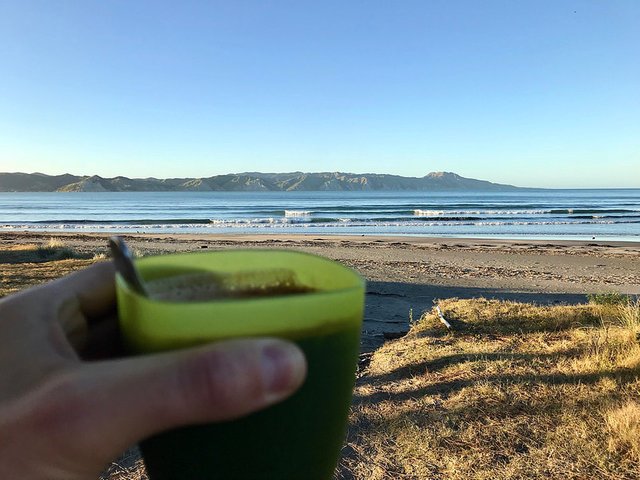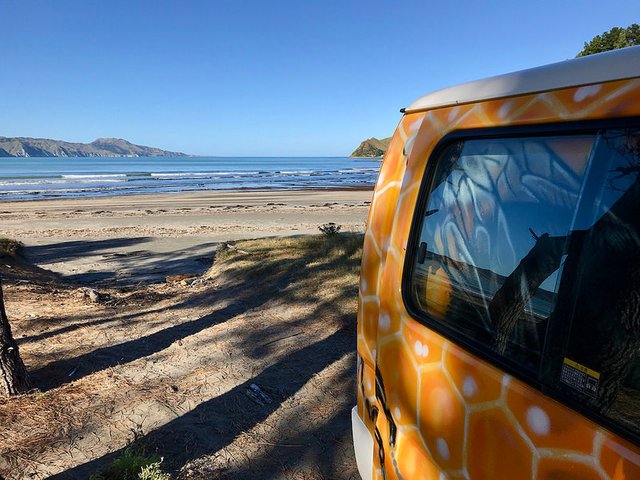 After some nice chats with our neighbors, I wanted to explore the beach while doing a morning run. Too bad I didn't bring my phone with me while running. The beach has a few spots where the tree trunks are laying everywhere. Beautiful obstacle run made by nature. Crawling under, jumping over, zigzag through this was my warming-up for Rere.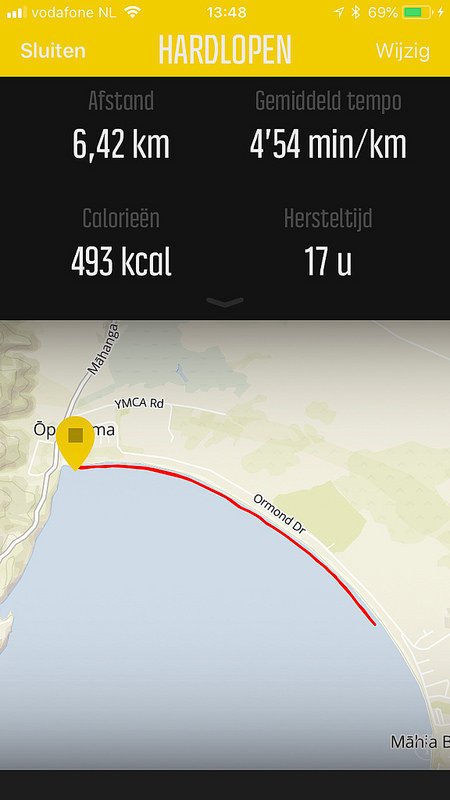 Rere Waterfall
I don't know how common this waterfall is, but it's a beautiful place for a picnic. Well actually the family who were enjoying the sun right next to the waterfall inspired me for the picnic idea. While the sun is doing its best for a nice picnic it is in the wrong direction for a good picture. Way to bright and right on top of the waterfall. So not a perfect picture from it. But I've been under it again off course. Here we did our best on our lunch and enjoyed the sun in the grass. How would I describe this fall, its more or less the same like Maruia falls but the scenery is a lot better with a lot of green surrounding it. I think this one is around 60m wide, and you can walk behind this one. Although the sign at the parking says better not to swim, I think the pool is perfect for a swim on a sunny day.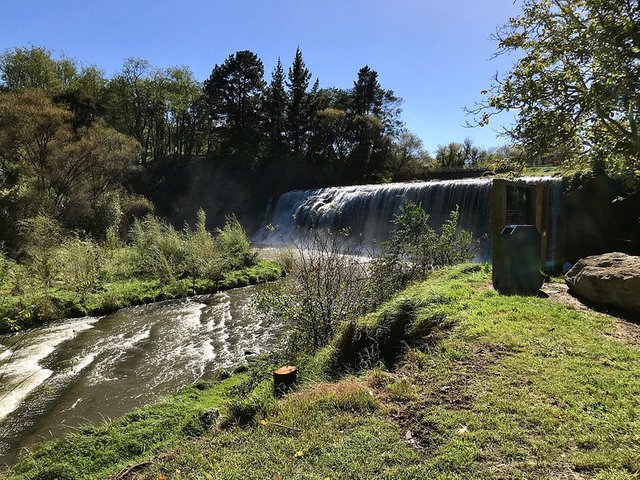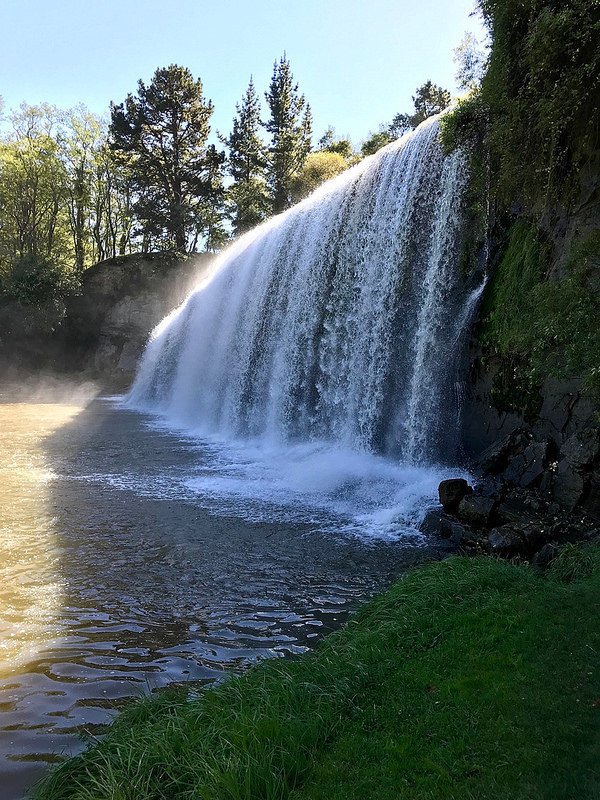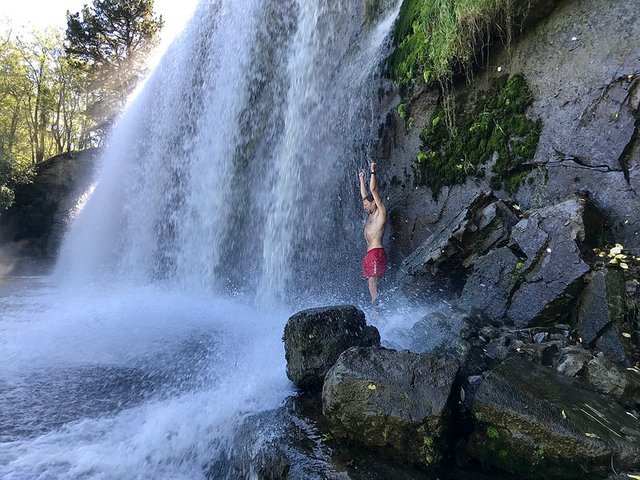 Rere Rockslide
Mother nature was done creating beautiful things here in New Zealand. This slide is just made for lots of fun! As you can see by this video created by Devinsupertramp (loving his Youtube channel). Before we went to New Zealand I came across this video and since down the road after the Rere waterfall. While parking our van at the carpark you already hear the people screaming. And this is definitely screaming for fun! It starts as a lazy, nothing special streaming river flowing through the country. The next part it morphs into a ride created by nature! It's a 50m soft angled rock where the stream flows ending in a (deep) small pool. There are a few matrasses not owned by anyone, so you can use them, but the fun part will be a bodyboard. These will go faster for sure. You do rush down the slope, and there is no chance for bailing out or stopping and there it is the SPLASH and you will bounce like a skipping stone through the pool. Don't do this slide alone, bring all your friends and bring your bodyboard the more people the more fun you'll have here. Did I enjoy this? Oh YEAH for sure! Only my back kept me off doing a running start with the bodyboard. Some locals were doing this and boy they gained a lot more speed then I had.
When you're tired and you want a lot of more Rere pleasures. If you follow the river more upstream (better ask some locals for the exact spot), you'll see a rope giving you access to a water area with a deep pool and different (from a meter till 15m high) rocks to jump off and some swingropes.
After a lot of Rere fun we were tired but oh boy we had some fun today!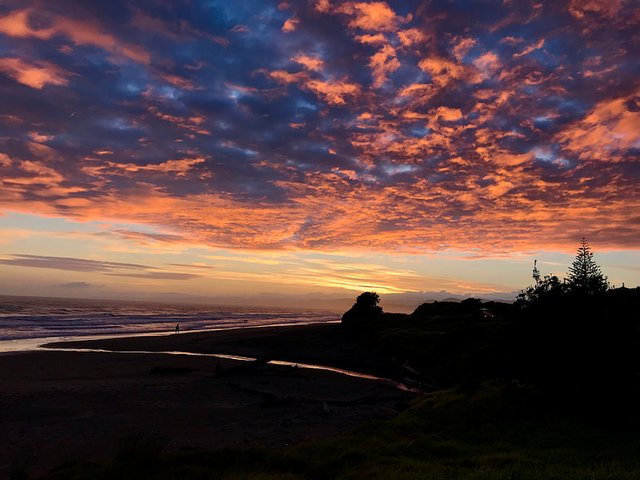 ---